05/01/09
Quite often, when I go looking for shelter from the storm, I seek music, all kinds of music. Tonight is one of those nights as I'm starting to get swine flu crazy. Forget the damn real bug out there terrorizing Mexico, the U.S. and rest of the world, I'm talking about the blitzkrieg of information that has been rocking our world, swinepedia.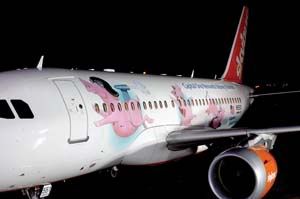 Webster's unabridged guide to words nobody ever heard of defines "swinepedia" as a comprehensive written compendium containing information on all branches of knowledge regarding swine, pigs, hogs and the people who can't avoid them or it.
Unfortunately, I think I'm coming down with it and as such, I'm looking for a safe harbor to kick back in, down a cold Mexican cerveza and talk a little treason while listening to good music that just somehow seems appropriate.
Or, maybe, I'm just slipping a bit further into the swinepedia abyss while conjuring pictures of metaphoric airports, airplanes, and cities effected by swine flu when watching music videos while hoping the world can get its act together before they decide to shut another country down and leave millions in terror, waiting for the other shoe to drop. In any case, I thought you might join me by checking out Pink Floyd, and their classic, Pigs on the Wing while reading the blog below it, Generation of Swine, Flu Scare Shutting Mexico Down.
If you didn't care what happened to me, and I didn't care for you…
Pigs on the Wing
Dangers…

(Editor's note: further information on the Cancun situation can be found in the blog(s) below this one.)

Tonight, we're taking a break from the madness of swine flu and moving towards another public health issue, one that effects millions of people worldwide, fibromyalgia. The subject is one that is fond to my heart and a health issue that I believe needs more research and study from today's medical professionals. You see, my mother suffers from fibromyalgia, and I've watched her fight this disease for twenty plus years, many of them without benefit of proper medical attention due to lack of correct diagnosis from the medical community at large, who didn't understand what she was going through, and lacked the research source material to do so. Misdiagnosis is common with this disease, and patients are often ran through a series of medications and therapies, that are virtually useless, sometimes harmful and often left to fend for themselves while medical practitioners scratch their collective heads, running the gamut of probabilities out there.
As such, when asked to help sponsor "Fibromyalgia Awareness Day", we heartily joined in support with other bloggers aligned with "Bloggers Unite" to throw our support to doing something proactive in fighting the disease and promoting awareness. http://www.bloggersunite.org/event/fibromyalgia-awareness-day
If you wouldn't mind, take a couple of minutes to read the information below, courtesy of the US National Institutes of Health.
We appreciate you taking the time to stop by and Cancun related information can be found in the blogs below this or by refreshing the blog via the link on the left and toggling down.
Fibromyalgia is a disorder that causes muscle pain and fatigue
(feeling tired). People with fibromyalgia have "tender points" on the
body. Tender points are specific places on the neck, shoulders, back,
hips, arms, and legs. These points hurt when pressure is put on them.
People with fibromyalgia may also have other symptoms, such as:
Trouble sleeping
Morning stiffness
Headaches
Painful menstrual periods
Tingling or numbness in hands and feet
Problems with thinking and memory (sometimes called "fibro fog").
What Causes Fibromyalgia?
Who Is Affected by Fibromyalgia?
How Is Fibromyalgia Treated?
What Can I Do to Try to Feel Better?
What Research Is Being Done on Fibromyalgia?
What Causes Fibromyalgia?
The causes of fibromyalgia are unknown. There may be a number of factors involved. Fibromyalgia has been linked to:
Stressful or traumatic events, such as car accidents
Repetitive injuries
Illness
Certain diseases.
Fibromyalgia can also occur on its own.
Some scientists think that a gene or genes might be involved in
fibromyalgia. The genes could make a person react strongly to things
that other people would not find painful.
Who Is Affected by Fibromyalgia?
Scientists estimate that fibromyalgia affects 5 million Americans
18 or older. Most people with fibromyalgia are women. However,
men and children also can have the disorder. Most people are
diagnosed during middle age.
People with certain other diseases may be more likely to have fibromyalgia. These diseases include:
Rheumatoid arthritis
Systemic lupus erythematosus (commonly called lupus)
Ankylosing spondylitis (spinal arthritis).
Women who have a family member with fibromyalgia may be more likely to have fibromyalgia themselves.
How Is Fibromyalgia Treated?
Fibromyalgia can be hard to treat. It's important to find a doctor
who is familiar with the disorder and its treatment. Many family
physicians, general internists, or rheumatologists can treat
fibromyalgia. Rheumatologists are doctors who specialize in arthritis
and other conditions that affect the joints or soft tissues.
Fibromyalgia treatment often requires a team approach. The team may
include your doctor, a physical therapist, and possibly other health
care providers. A pain or rheumatology clinic can be a good place to
get treatment.
In June 2007, the U.S. Food and Drug Administration approved Lyrica*
(pregabalin) as the first drug to treat fibromyalgia. Doctors also
treat fibromyalgia with medicines approved for other purposes. Pain
medicines and antidepressants are often used in treatment.
What Can I Do to Try to Feel Better?
There are many things you can do to feel better, including:
Taking medicines as prescribed
Getting enough sleep
Exercising
Eating well
Making work changes if necessary.
What Research Is Being Done on Fibromyalgia?
The NIAMS sponsors research to help understand fibromyalgia and find
better ways to diagnose, treat, and prevent it. Researchers are
studying:
Why people with fibromyalgia have increased sensitivity to pain
The role of stress hormones in the body
Medicines and behavioral treatments
Whether there is a gene or genes that make a person more likely to have fibromyalgia.
*Brand names included in this booklet are
provided as examples only, and their inclusion does not mean that these
products are endorsed by the National Institutes of Health or any other
Government agency. Also, if a particular brand name is not mentioned,
this does not mean or imply that the product is unsatisfactory.
For More Information on Fibromyalgia and Other Related Conditions:
National Institute of Arthritis and Musculoskeletal and Skin Diseases (NIAMS)
Information Clearinghouse
National Institutes of Health

1 AMS Circle
Bethesda, MD 20892-3675

Phone: 301-495-4484

Toll Free: 877-22-NIAMS (226-4267)

TTY: 301–565–2966

Fax: 301-718-6366

Email: NIAMSinfo@mail.nih.gov

Website: http://www.niams.nih.gov
The information in this publication was summarized in easy-to-read
format from information in a more detailed NIAMS publication. To order
the Fibromyalgia Q&A full-text version, please contact NIAMS using the contact information above. To view the complete text or to order online, visit http://www.niams.nih.gov.
For Your Information
This publication contains information about medications used to
treat the health condition discussed here. When this publication was
printed, we included the most up-to-date (accurate) information
available. Occasionally, new information on medication is released.
For updates and for any questions about any medications you are taking, please contact the U.S. Food and Drug Administration at:
U.S. Food and Drug Administration

Toll Free: 888-INFO-FDA (888-463-6332)

Website: http://www.fda.gov/