10/25/09
(Cancun Beach, North to Punta Cancun; By Cancun Casa)
In this edition of the Cancun Casa Blog, we'll attempt to bring you up to date on the news in and around Cancun, Mexico during the traditional "slow season", September through late November. We're playing a bit of Cancun Casa Catch -Up here on the news blog, so we'll jump right in momentarily. As a sidebar, we will tell you that this time of year is a terrific period of the year to visit the Mexican Caribbean, including Cancun, the weather is beautiful, the crowds are nil and the sale prices on hotels and vacation packages extremely enticing. So, if you find your mind wandering to palm trees, moon lit beaches and a hankering for the land of the Maya, there's likely no better place to start than Cancun, Mexico.
Hopper Dredger "Kaishuu" (Courtesy of VesselTracker.com)
(Fiesta Americana Coral Beach Hotel by CancunCasa)
Hotel Occupancy:

Better known as the Cancun Stock Market, a euphemism used to describe the growing or waning fortunes of the tourism industry in Cancun, the city and her citizens lifeblood, has settled into a paltry 41% average for the month of October as of the 21st of the month. The same period last year had averages near 52% occupancy for the hotel sector or approximately a 20% decline in occupancy over the same period last year. The reasons for the downtown are the world recessionary economic climate, continued long range fallout from the disinformation associated with Mexico as a result of the world wide swine flu A-H1N1 pandemic, and publicity, often erroneously attached to Cancun from the drug cartel Mexico-US border wars, some 1100 miles away.
(Pericos Restaurant Promotional)
U.S. Citizen Murdered in Downtown Cancun:

In a tragic killing that may be related to illegal immigration from Cuba to Mexico to the United States, it appears a Cuban- American male, in his sixties, with U.S. citizenship and a past address in the State of Indiana, now residing, at least part time in Cancun and possibly Miami, Florida, was assassinated by three men in downtown Cancun. The man was assaulted and stabbed by three unknown assailants, described by witnesses to be possibly, Cuban, late night in a Cancun neighborhood, far from the tourist district. Local police and authorities are investigating the crime scene and robbery has been ruled out as a motive…

In a late breaking update to this story Judicial Police in Cancun have arrested a 32 year old woman reported to have some type of employment relationship with the victim as a potential accomplice to the attack, and in a rather strange twist are now indicating the attack may have been part of a greater robbery plot. Earlier reports from local police had indicated that robbery was not a motive based on the untouched personal possessions on the victim left at the scene of the crime, leading police to speculate on the reason for the assassination. It has yet to be confirmed whether this involves members of the Cuban community in Cancun, as witnesses to the crime scene had led local police to speculate, in earlier reports. Based on the most recent report, courtesy of Diario de Yucatan, the woman arrested remains in custody at the Cancun jail.

http://www.yucatan.com.mx/noticia.asp?cx=15$4108080000$4179216&f=20091025
(Cancun Beach, Near Playa Delphines: By Cancun Casa)
10/21/09
Filed under:
Cancun Casa Blog
,
Cancun Tourism
Posted by:
Dangers
@ 5:30 am
*Mercado 28, Victims Released, Ransom Paid, Captors Remain Free
*

Updated: 10/21/09
Reports out of Cancun indicate that all five men have been released by the kidnappers as of Tuesday, October 20, 2009 and are refusing to cooperate with authorities out of fear of reprisals from their former captors. Further reports indicate that one of the victims , a shop owner at Mercado 28, paid a ransom of 100,000 Pesos and 3-vehicles for his release but claims to be incapable of identifying the kidnappers…more as or if it becomes available.

(Courtesy of Diario de Quintana Roo)
*October 16, 2009*
In a continuing sign of the times, in Cancun, Mexico and the world, a troubling incident occurred at the popular Downtown, Cancun tourist market Mercado 28 in Cancun City, where five people were abducted at gunpoint Thursday night, October 15, 2009, at around 7:00 PM, when assailants arriving in two vehicles quickly abducted the "Opal" jewelry store owner and his assistant, along with another shop owner and aide along with a taxi driver from Isla Mujeres. The surreal crime scene unfolded when the kidnappers jumped from at least two vehicles and accosted the victims at their shops at Mercado 28 while they were playing a leisurely board game early in the evening. Reports from the local press indicated that the abductors ordered nearby foreign tourists and locals in the area of the shops to lay down at gun point while they proceeded with the crime before speeding off into the night with their victims. No injuries were reported at this time by the foreign tourists or locals whom witnessed the unfortunate event.
(Courtesy of Cancun.travel)
Local authorities arrived quickly on the scene and took reports from witnesses and family members while beginning a search for the victims. It's also reported that the shop owners within the popular market gathered later for an impromptu meeting where they agreed to provide any details and assistance to authorities that they could. Early speculation by local police officials indicates a theory of either kidnapping for profit or potentially yet another in the recent surge of crime related to drug trafficking and illegal smuggling of Cubans into the region. News reports over the past year have also indicated a continuing increase in local shop owner shakedowns occurring in Cancun by organized crime. The shakedowns similar to protection rackets ran by US crime organizations in the not so distant past.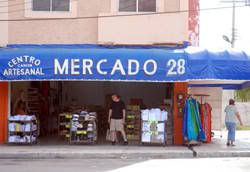 (Courtesy of Por Esto)
A recent follow up on this story indicates that it is believed by authorities the taxi driver from Isla Mujeres was likely an inadvertent victim having just dropped off foreign tourists as part of the taxi service to the market area, being in the wrong place at the wrong time. The story updates courtesy of both
Novedades
and
Por Esto
in Cancun also state that the family of one of the shop owners has chosen to not file a police complaint as of this date and may be negotiating with the kidnappers. Police investigators from the Federal Judicial Police are working with the remaining victim's family members in an effort to safely recover the kidnapping victims.
The Mercado 28 or Market 28 is a popular tourist shopping area in downtown Cancun where tourists often venture seeking discounted prices and sales amongst the flea market style shopping stalls in deference to the sometimes higher priced Cancun Hotel Zone shopping areas. The area is also popular with tourists and locals alike for a handful of small open air eateries that feature good food at local prices.
http://www.poresto.net/cgi-bin/news.cgi?f=12354
http://www.sipse.com/noticias/15957—despues-levanton.html
http://www.dqr.com.mx/index.php/Benito-Juarez/Nota-RojaBJ/Estaran-vivos.html
(Updated: 10/18/09)
One victim lives in tragedy, another victim stops to stare, and still another walks on by pretending not to see. - Bob Seger, No Man's Land
10/18/09
The long awaited Cancun, Mexico beach restoration project is underway, during the last few weeks private contractors, Dutch Company Jan de Nul and their subsidiary Mexico based Dragados have been doing preparatory work for the restoration of approximately 11.1 kilometers of beach area in Cancun's southern hotel zone, the primary area of Cancun beach restoration.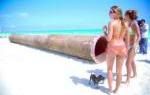 (Courtesy of Sipse/Novedades)
Large amounts of piping and machinery have been coming to Cancun every week along with barges and associated heavy equipment to be used in the project. Reports from the local media in Cancun indicate that piping to be used for sand replenishment is being assembled at various beaches with the beach area near the Bay View Grand Condominium complex established as one of the main staging areas. Additional reports indicate that piping is already in place at the area of the Le Blanc Resort beach with other areas soon to follow.
A specialized dredging vessel and sand mining equipment is expected to arrive between October 18 and October 20 to begin the actual underwater sand mining and sand filling along the beaches in Cancun in short order.
Officially, it is expected, Mexican dignitaries, including high ranking Mexican officials of government will formally announce, in Cancun, the recovery of beaches in Quintana Roo, is underway later this week.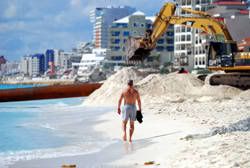 (Courtesy of Por Esto)
The beach restoration project overall includes an area of beach recovery in Cancun from Punta Cancun to Punta Nizuc, approximately, the area just south of Dreams Cancun Resort at Punta Cancun, running 11.1 kilometers south to Club Med's Cancun based resort at Punta Nizuc. The project also includes beach areas in the Playacar area of Playa Del Carmen and specific beaches on Isla Cozumel.
We would caution from this end that the project has been rife with delays and weather can certainly be a determining factor in the progression of work. However, the project is now set to begin it's primary stages of restoration and work may move rapidly once underway. Also, the recovery project does not include beach areas North of Punta Cancun or the already restored popular beach at Playa Norte on Isla Mujeres.
For those looking for more in depth information, one of our previous blogs may assist in providing more detailed perspective;
Cancun : Where's the Beach? Restoration Project Dates and Timeline
The information in this issue of the Cancun Casa Blog was provided via multiple media and government based sources. Recent sources of information can be found at;
Novedades: http://www.sipse.com/noticias/16044-rescate-playas-unos-dias.html
Por Esto: http://www.poresto.net/cgi-bin/news.cgi?f=12351
Choose to chance the rapids and dare to dance the tides. - Garth Brooks, The River