04/04/21
Filed under:
Cancun Tourism
,
Maya World
Posted by:
Dangers
@ 11:44 pm
On a dusty road through a small Maya village that time forgot sits one of the crossroads of the Maya, Coba, the Maya roads of home. The once great Maya City, Coba, named for the twin lagoons bursting with reeds nearby is still a relic of the past, predominantly unrestored, yet partially cleared of the foliage and centuries of settlement that covered the landscape and its hidden architecture. The ancient city is combed with roads called "sacbe", stone paths, that linked other Maya villages and trading centers as far away (55 miles+-) as the great Maya center at Chichen Itza. Estimates by archeologists indicate that at one time Coba was home to upwards of 50,000- 100,000 Maya indicating that the city was a major kingdom in the Maya Classical Period some fifteen centuries ago, dominating the region for a period of at least four hundred years from the 5th through 9th century.

The view from atop the pyramid Nohoch Mul at Coba (Courtesy of Wiki)

It was on an early morning from Cancun we set out to visit the Maya ruins at Coba, a bright, clear and warm day awaited us as our amigo Javier came by the Hotel to pick us up. Javier is a frequent traveler with us on our Yucatan excursions, sharing our experiences and providing us with savvy advice as we negotiate the region, often a guide and always a friend, we rely on Javier's expertise whenever possible as our amateur adventure team continually explores the Yucatan. We headed out on highway 307, the road to Tulum and coastal route that parallels the Caribbean in the Mexican State of Quintana Roo, passing Puerto Morelos, Playa Del Carmen, Puerto Adventuras and a host of small villages developed in recent years as the Riviera Maya continues to grow.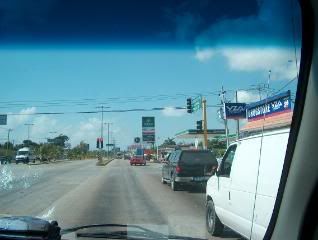 The Coastal Highway 307

We made a couple of stops, one for provisions in a small outpost outside Playa and yet another for my better half when the "Jewelry Factory" suddenly appeared with the promise of sparkling gems and clean bathrooms on route. Along the way we passed three security checkpoints that reminded me of U.S. style speed traps except these featured local police drinking cokes and eating tortillas instead of coffee and donuts. We were so stricken with fear from the coke drinking officers packing automatic rifles hanging over their backs that we shared a smoke and joked about the weather briefly as traffic slowed next to them.

The Jewelry Factory
After a short traffic delay we were on our way, moving off the coastal road and onto the road to Coba, a road with scattered cottages and palapa homes checkering the tropical forest roadway. Entering the town of Coba we found a small village of rustic design that we've found common off the beaten path of the Yucatan, a quaint house of worship that proved once again that people and God don't need fancy buildings to believe, a police station with two officers sitting on the steps, sipping soda in the late morning sun, and numerous mom and pop style shops serving cold drinks and local foods, most with just an old Coke ice chest as a cooler and a block grill for cooking. The town was amazingly laid back, serene, a fine counterpoint to the bustling tourist areas of the coastal areas.

The Iglesia of the town Coba (Church)
A short while later we entered the Maya City of Coba, greeted by the entrance guard shack and populated by a series of small trinket shops, clean restrooms and small open air style cantinas catering to visitors surrounded by the tropical forest and the hidden ancient city. One could almost feel the history lurking beyond, an almost ominous presence existed from the past beckoning one onto the dusty paths that led into the tropical forest. As we entered, one is greeted by directional signs and bicycle taxis, small two seat contraptions that are pushed by a bike driver as a means of conveyance over the vast paths in and around the ruins of the city.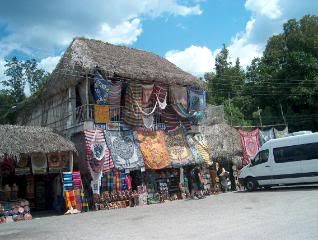 The entrance and shop area of the Coba Ruins
We spent the day visiting and wandering the site, climbing some of the available ruins (not all that are available are publicly accessible, most are) venturing up the Nohoch Mul pyramid, the tallest in the Yucatan, amazed at the ancient ball courts, the church, the observatory, various temples and cultural buildings while never shaking that sense that something was still alive from the past here.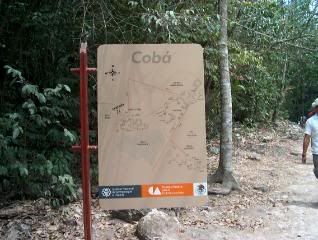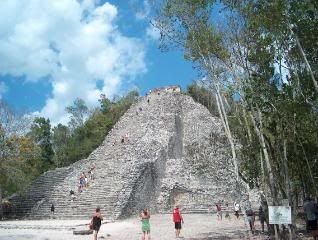 Entrance Sign and the Pyramid Nohoch Mul
By alive from the past, I'm referring to that human sixth sense that lets you know that something happened here, more than just the rise and fall of a once powerful city state, a window of the past that still has a story to be told, a feeling beyond the sterilty of today's Chichen Itza, though on slow days Chichen has the feel of history especially Old Chichen, or the poorly excavated and restored Tulum, this was something else, call it the ghosts of Coba, there's still history to be told here amongst the ebb and flow of Coba's unexcavated ruins, not unlike the feel one gets from visiting places where great battles have taken place.

Ballcourt #2
The roads and paths that intersect and twist out of the city indicate that Coba was a central crossroads city state of high importance to the Maya, a prominent place of power and with its large natural water reserves from the two nearby lagoons, the eyes of Coba, a likely place of conflict over the years. Over the course of at least four hundred years the Maya civilization at Coba had risen and fallen, disappeared into the past until the 1920's though reports indicate that scholars had known of her for almost fifty years prior. It wasn't however until the later part of the 1900's, spurred by advancing tourism that extensive excavations began at Coba and the city of the Maya would once again awaken.

Large stelae at ballcourt
Coba is somewhat unique among other popular Maya sites in that many of the building sites within the forest are largely unexcavated including the large pyramid. Climbing the main pyramid on a hot day is a chore unto itself but worth the effort, just be aware that the climb is steep, uneven and not for those inclined to vertigo.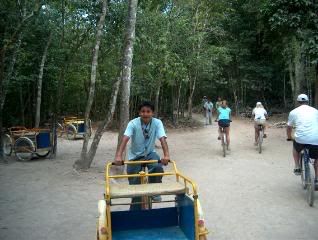 Bicycle Taxi: 100 Pesos
Coba is recommended by us and the journey from Cancun will take about two plus hours depending on traffic and stops along the way on the 110 mile or so journey. The site is open 8-5 and a small admission is charged, bicycle taxis are available for rent and are also recommended. The site includes a small tourist center, shops and restaurants, most with prices that are reasonable for typical similar attractions. The staff and people working on site are friendly and safety concerns are primarily from the health side as the tropical forest by definition is hot, humid and damp. Bring a good "Deet" based insect repellent and hydrate yourself as necessary. There's also a beverage and snack stand located approximately half way into the park.
Nya b'a'n tu'n tjax tk'on chi'l toj twiy, ku'n b'e'x ch'ajila tu'n tx'yan.
[He who walks without looking will fall into trouble; non literal translation]
Dangers…


03/18/21
Filed under:
Cancun Tourism
Posted by:
Dangers
@ 12:00 pm
Well folks, it's that time of year again in Cancun, the time of year when thousands of mainly American, Canadian and assorted International and National College aged curiosity seekers descend on Cancun. Naturally, we're talking Spring Break in Cancun, the supposed beach playground of North American Youth for a 4-5 week period, typically covering most of the month of March and shouldering in on both February and April respectively.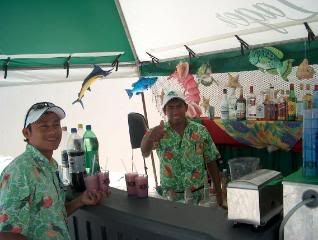 Some time back, around the year 2001, this was the bane of the typical tourist set and locals alike, a 21st century Ides of March in the adult playground of Cancun when a 100,000 or more young party types would manage all the alcohol they could spill, drink or throw until they were picked off at night by the pterodactyls or the local policia. Mostly it was raucous good times with an emphasis on Wet T-Shirt contests and 2×1 drinks at the evening bars and club scene, preempted by poolside games, crashes and low quality bathtub booze, bong hangovers. All courtesy of Mom and Dad's credit card and the promiscuity brought on by one too many boat drinks, in other words, money for nothing and the chicks for free.
Many a spring breaker and tourist alike fell victim to the putrid concoction of "Slammers", lethal shots of cheap tequila mixed with a host of mixers to kill the taste but to further the party. In most cases, no more harm than a hangover ensued or a late night visit to St. John before resuming the festivities. That was until Cancun started declaring war on Spring Break somewhere in the 2002 season, cracking down on public drinking and setting sail on a new upscale image that wouldn't come into full view until post Hurricane Wilma (October/2005) in 2006.

By the end of 2006, Cancun had remade herself, the hotels and restaurants devastated by Wilma were now mostly heavily renovated or completely rebuilt, the new clientele sought was to be middle to upper class tourists with a timeshare credit approval rating and an eye for something better than sharing the Mexican vacation playground with their neighbors college kids. Of course with this new found image, someone had to help pay for it, so if Cancun was going upscale as were her guests, so was their hotel bill, not that Cancun isn't still a bargain, just not as good a one as she use to be. With it however was a renewed disdain of the Spring Break crowd.
When 2007 rolled around, Old Man Use To wasn't yet dead but the patient was in intensive care, Spring Breaker numbers were reeling back heavily as more and more hotels either through cost, age limits or downright refusal stopped catering or allowing Spring Breakers in their establishments. Estimates vary but by most accounts the 2000-2001 estimates of Breakers had dwindled from its peak of approximately 100,000 plus to a mere 35,000 by the 2008 season. Most of these Breakers being pushed into less than accommodating resorts that were more cattle pens with pools and taps than front line vacation Hotels.
However, still the allure continues, and with proper attitude it's not necessarily a bad thing, the Spring Breakers that is.
Certainly from this perspective the numbers seem more manageable and despite the MTV and Real Cancun reputation, most of the young people landing in Cancun these days appear to be generally polite, reasonably behaved and obviously looking for a good time and aren't we all. This year, 2021, the Cancun Hotel Association has been predicting anywhere from 25,000 to 35,000 Spring Breakers based on local press reports and that doesn't look to be unreasonable, mostly bunched together at a handful of resorts that Mr. and Mrs. Average American wouldn't take a liking to anyway.
So, the long and short of it is, for the typical tourist, research your hotel choice beyond "it's on sale" and you should have little issue with the Breakers during any time in March. The reality is that if your staying at the Ritz and in bed by 10PM, you won't see them anyway, other than huddled in masses during the day at soylent green operations akin to Mickey D's and the like.
For the Breakers, as a veteran of almost every Cancun Spring Break since 1987, keep it cool and keep it from going over the top and you'll have a great time in Cancun, do remember that in Mexico, your rights and law enforcement are quite different, respect the locals and the culture, enjoy the party but try and get a glimpse of Mexico while you're there because it may be the only chance you get to see of her.


There's plenty of great things to do in and about the Cancun area for everybody; Maya Ruins, Cenotes, small tropical Isla's like Mujeres and Cozumel, Eco Parks, Snorkeling, Scuba and of course the surf and sand scene. Why spend a thousand bucks to shack up and swallow the Mezcal worm in Mexico, not that there's anything wrong with that, without ever seeing what Mexico really has to offer.
Dangers…
12/20/20
Filed under:
Cancun Casa Blog
Posted by:
Dangers
@ 11:00 am
¡
Feliz Navidad y próspero Año Nuevo!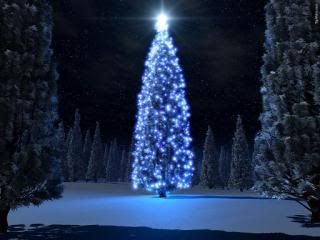 Merry Christmas and Happy New Year!
09/28/20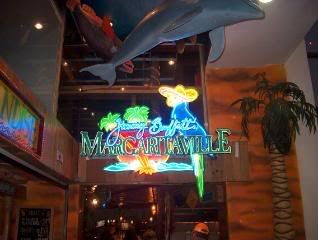 (Margaritaville - Cancun, Mexico By Cancun Casa)
In this version of the Cancun Casa blog, we mix up a bit of Island Sounds, add a little bit of Cancun, Mexico and a whole lot of shaking from Caribbean music maestro Jimmy Buffett and serve up the Halloween boat drinks with the music video "Desperation Samba", alias Halloween in Tijuana, though if you listen well you'll hear Jimmy Buffett's references to one of his more famous Margaritaville establishments, the now former one in Cancun, Mexico, moving to Playa Del Carmen soon, if the coconut telegraph is correct.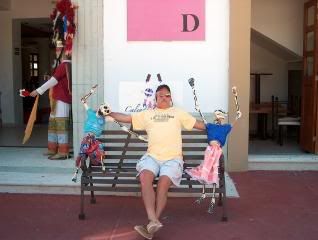 (Calenda Oaxaca - Cancun, Mexico :By Cancun Casa)
In Mexico, Halloween or the more appropriate, Los Dias de los Muertos, or Day of the Dead by way of translation is a bit more subdued than in many places around the world though the Mexicans have been joining and enjoying the customary U.S. style trick or treating more and more each passing year in many places of Mexico. The three day event in Mexico features home style religious and family shrines, visits to the local cemetery with gifts for honoring deceased relatives along with decorations of graves, special meals, a special day of the angels for deceased children, and of course a bit of celebration, including decorations and costumes. In Cancun, school children will dress up for the day in many places and the same chills, thrills and spills will occur over the course of the celebrations as any where else in the world.
(Xcaret- Mock Cemetery By Cancun Casa)
The Mayan will celebrate their own version of Halloween via "Hanal Pixan", a celebration of life, death and the underworld common to the regional inhabitants still honoring pre-Hispanic customs of their ancestors via meals prepared for the deceased and the living alike.

(Hanal Pixan Maya Celebration Promo; Courtesy of Xcaret)
(Xcaret-Mock Cemetery By Cancun Casa)
We now leave you with a bit of the Desperation Samba, Cancun Branch, Courtesy of Bombay Bob, YouTube and of course, Jimmy Buffett…
Disclaimer: CancunCasa claims no rights of ownership, use or otherwise to artistic representations, and they are only presented as part of the story line preceding them; and as made available.