05/31/09
Filed under:
Cancun Casa Blog
Posted by:
Dangers
@ 12:31 am
In Memoriam Steve "Carney" P.
In a rather somber note tonight I'd like to take a moment to devote this Cancun Casa Blog to a very dear friend of mine and many others in Cancun, Mexico along with a host of family and friends in the United States, Steve "Carney" P., better known to friends and family as "Poppy". Steve was an avid Cancun vacationer along with his wife, Ruth, the love of his life, also a very dear friend, having been a regular visitor to Cancun for over twenty years. Steve battled the insidious disease of cancer for the last couple of years never losing his faith, courage and sense of humor. He was a man's man, a class act and an honorary Cancunense amongst the locals he knew.
Steve's nickname "Carney" came courtesy of Karaoke Joe, the former operator, along with his wife Janet, of the Cancun Hotel Zone Clubs, "My Place" and "The Over 30 Club", Joe bestowed the name when amazed at Steve's resemblance to American comedian Art Carney along with Steve's perfect timing of a handful of popular Art Carney lines. From that day forward Steve's picture honored the walls of first the "Over 30 Club" and later, after Hurricane Wilma, "My Place". Typical of Steve, he made friends everywhere he went and Cancun was no different as quite a few of the locals, including good friends, Javier, Lulu and their family, and also, especially, at the GR Solaris and Royal Solaris Hotels where staff always looked forward to "Poppy's" visits.
Steve was also a proud U.S. Army Veteran, awarded the Purple Heart, serving his country in Vietnam, the IT Director of a Fortune 500 Company and an avid Philadelphia area sports fan. He loved visiting Cancun, trains, collecting beer steins, Mariachi's, cheeseburgers, cold beer, good times, and spending time with his family and friends. He was generous as well, donating often to U.S. and Cancun charities alike, including the Little Yellow Schoolhouse on Isla Mujeres for children with learning disabilities.
More than that though, Steve was a loving husband, father, grandfather, brother, and beloved friend to many, including my wife Ruth and I, leaving this world a better place for having been here and leaving us all with fond memories and advice on how one should live their lives, full of life.
Good-night, sweet prince; And flights of angels sing thee to thy rest…
05/24/09
The pendulum has swung back in favor of this tourist destination as thousands of tourists are returning to Cancun and the Riviera Maya, Mexico's premier tourist destination after massive cancellations, flight stoppages and cruise industry restrictions due to the swine flu scare. Hotel industry reports indicate that occupancy numbers in Cancun have pushed up to 37.2% as of May 21, 2009 after settling near 20% on May 10. While 37% is nothing to celebrate about, what it does indicate is that Cancun has started to break free from the negative perception casting a cloud over the city since the international swine flu breakout. The hotels in the city proper, not in the famed hotel zone, are reporting numbers near 50% of occupancy while upper end all inclusive resorts in the hotel zone are at 43%. In the halcyon days prior to the stigmatized effects of negative media, international government and private business attention the numbers would more properly show occupancy in the 70-80% ranges for this period in previous years.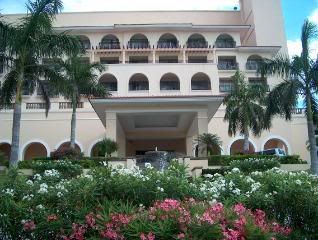 As it is, in an effort to recapture the world's attention as a safe, secure and first class travel destination, Cancun has gone "on sale" via a wide ranging mass media campaign undertaken by the Mexican Government and businesses operating within Cancun itself. Most of the major hotels are offering steeply discounted rates across the board while airline fares have been reduced in many cases to coincide with a "swine flu" guarantee. A hotel based guarantee among many top line resorts that offers a series of free future vacations and/ or refunded vacations should a guest be confirmed with swine flu after visiting the Cancun resort of their choice.
The report from the Cancun Hotel Association indicate that bookings are starting to surge and new cancellations are few and far between for the up and coming months of June and July while flights to and from Cancun are on the increase from the main origination destinations of Cancun tourism, the U.S., Canada, UK and Western Europe, particularly Spain.
Further reports indicate that most "consolidated" resorts are planning on reopening in early June if not sooner.
Internally within the city and State of Quintana Roo local school schedules have been restructured so that students will have limited to no extensions of the school year thus avoiding a negative impact on the national vacation season during the summer months.
In short, the gringos are returning to Cancun and the Riviera Maya in numbers strong enough to portend a break in the negative perception that exploited the resort areas due to the fears of swine flu along with the drug violence on the U.S. and Mexico borders some 1400 miles away from Cancun.
We would be remiss if we didn't note that all major tourist operations and public services are fully operational in Cancun and awaiting visitors, to date there's been 27 cases of swine flu confirmed in the entire State of Quintana Roo (less than many States in the U.S.) and that there are currently no international travel restrictions posted by countries that provide the bulk of visitors to Cancun, Mexico.
In this corner, we would suggest if you have the wherewithal to visit Cancun, taking advantage of the change in attitudes by taking advantage in a change of latitude, there isn't a better time to do so, the weather is great, the Caribbean as always beautiful and vacation prices the best they've been in years.
Dangers…
05/20/09
(Editor's Note: News of Cancun and the Riviera Maya can be found in the Blog preceding this one below.)

In this blog we're visiting the island sounds once again with the music of the Buena Vista Social Club from the Caribbean Island relatively close to Cancun, approximately 115 miles northeast of Cancun and 107 miles northeast of Mexico's own little Isla, the Caribbean island of Isla Mujeres, that other island, of course, is Cuba. The Cuban presence in the Yucatan has always been part of a shared cultural heritage of the region due to geographic proximity and most recently, part of the freedom road for expatriated Cubans seeking shelter from the storm via often illegal immigration to Isla Mujeres and then Cancun. Cancun offering a multi-cultured experience and blending area for Cubans that arrive there before traveling North to the United States hoping to find sanctuary.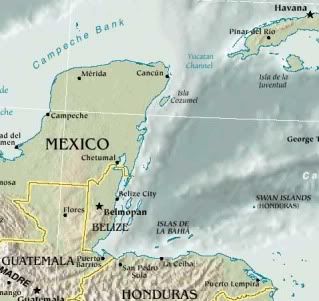 (Courtesy of www.caribbeanmag.com/search/map/Cuba/ )

Under the U.S. President Barack Obama, a normalization of relations is beginning to occur between Cuba and the U.S. for the first time in many years after 40 odd years of isolation. In Cancun this means that another potential, powerful competitor in the tourism business may be set to rise on the Mexican horizon a short distance away with Caribbean beaches and historical lore, a short distance from the U.S. mainland whose citizens are the backbone of Cancun tourism.
And yet, despite the political, the economic issues, and the illegal immigration that often goes hand in hand with drug trafficking, money laundering, and other criminal acts, there's a social issue, a widespread feeling that with the aging Cuban Dictator Fidel Castro close to the end with deteriorating health and increased age, and his brother precariously running the country, Cuba may soon return to joining her fellow North American and Latin American nation states as a contributing member with the possibility of full freedoms and human rights for her people.
In this corner, whether your American, Mexican or a citizen of the world, shouldn't we all be, it's a door we should leave open, and one that should be explored, especially for the Cuban people themselves.
In any case, geopolitics aside, there's always been a strong cultural influence in the Yucatan of Mexico and U.S. Gulf States from Cuba, especially in Florida, where as Jimmy Buffett says, "everyone has a cousin in Miami". As such we bring you the sounds of the great Buena Vista Social Club doing "Chan Chan", a song for the traveling and brokenhearted from our favorite Island Sounds collection. So grab yourself a Mojita, sit back, turn up the volume and enjoy this classic Cuban sound.
(Courtesy of YouTube/gypsyplayer85)

Dangers…
05/18/09
Somebody sound the all clear, the fear is gone, with a few sweeps of the pen, foreign communities across the globe are issuing the all clear for Cancun and the rest of Mexico regarding international travel. Today, Canada, still sleepy from a long weekend joined the U.S., the UK, Switzerland, Peru, Argentina, Ecuador and a host of other nations in the removal of the non essential travel warnings and advisories posted regarding Mexico. In an amazing turnabout in the swine flu craze, despite the obvious widespread world outbreak of "novel H1N1″, and the World Health Organization never recommending a non essential international travel warning, the nation states of planet Earth maddeningly issued said warnings and advisories that are now being widely rescinded. We would like to think there was some method behind the madness, other than the typical bureaucratic wag the dog mentality but we're very hard pressed to do so.

As it is, we've some updating to do on Cancun and the rest of Mexican Caribbean and now seems as good a time as any to crank up the week that was and the week ahead. So please read on, follow the bouncing bullets, and we'll try and get us all up to speed on the week ahead and the week that was. We'll lead off with the major news updates for both travelers and locals alike;


(Courtesy of WWW.Cancun.Travel)
Canada's Public Health Ministry announces removal of non essential travel warning to Mexico: http://www.phac-aspc.gc.ca/tmp-pmv/2009/h1n1-mexico-090518-eng.php
United Kingdom Foreign and Commonwealth Office announces removal of non essential travel warning: http://www.fco.gov.uk/en/travelling-and-living-overseas/
Carnival Cruise Lines announces resumption of Mexico ports of call: http://www.carnival.com/cms/fun/cruise_control/Travel_Advisory.aspx?icid=CC_HMPG_21
Royal Caribbean announces resumption of Mexico ports of call: http://www.royalcaribbean.com/beforeyouboard/itineraryUpdates.do
UK's Thomson Travel, First Choice and Thomas Cook agencies announce resumption of flights to Mexico.
Mexico's Health Ministry Reports there are now 24 confirmed cases of "novel H1N1 in Quintana Roo. http://www.sipse.com/nota.php?id=37114
U.S. Center for Disease Control Representative estimates upwards of 100,000 non reported cases of swine flu in U.S. currently. http://www.ajc.com/health/content/shared-auto/healthnews/cdc-/627186.html
W.H.O. announces swine flu is now widespread throughout the world and that we are witnessing (not to mention partaking) a likely pandemic level flu outbreak. The good news, thus far, is that for the most part the current mutation of the swine flu is similar in health concerns to what is commonly called the annual flu.
Currently all or parts of over 30 major hotels in Cancun and the rest of Quintana Roo are closed due to lack of business as a result of the swine flu scare.
Marina operators in Puerto Juarez indicate that business is off by as much as 90%.
A previously suspected homicide involving a 53 y/o female of foreign origin (Argentina) who died of drowning near Playa Delphines, is now being handled as a suicide. The woman was an Argentine Ex-Pat who had moved to a friend's home, to seek employment in the Cancun area, in September of 2008. She had recently lost her job (in Cancun) as an assistant accountant and is reported to have been despondent, reportedly, in the past she had stated she would end her life by walking into the sea. Tragically, this appears to be what has happened, however, the Cancun police are still investigating and are in communication with family members, and the friend she was living with.
Conflicting reports continue as to whether all Cancun bars, restaurants and event areas are operating under 100% occupancy rules. Previously, establishments were required to limit occupancy to between 40 and 50% due to swine flu precautions, and it had been believed that these rules had been vacated but a report from the Quintana Roo Health office appears to indicate an intent for the 50% requirement.
All major tourist venues are open and operational including Maya sites, Eco Parks, Sports Events, Marinas, Public Transportation, Malls, Retail areas and the majority of Cancun downtown and hotel zone Hotels.
Many Cancun Hotels are offering a swine flu free travel program, simply stated, if you come to Cancun, catch the swine flu, must be confirmed, you'll receive 3 years of free hotel stays at the resort you stayed at. If you don't get the swine flu, you have a great time and pay the bill at checkout.
Hotel Occupancy in Cancun is 29% as of May 17, 2009 and on the increase since non essential travel warnings have been rescinded internationally.
The Cancun Beach Replenishment and Restoration is tentatively slated for a mid June start-up. Public opposition is anticipated under the guise of environmental reasons from the citizens of Cozumel. Much of the sand to be used for the restoration is slated to be removed from marine sand banks well off the coast of Cozumel that local citizens fear will be damaged permanently, threatening the islands safety during tropical storms and endangering local marine habitat.
Cancun's "Atlante Iron Colts" along with the local Cancunense are enjoying the major league soccer team's championship of the CONCACAF after defeating Cruz Azul. As a result of the victory, Atlante will play in the FIFA World Cup at the U.A.E. in December.
The Cancun Airport and Marinas providing transportation to the Islas continue to check, mechanically, for people that have swine flu symptoms via fever testing devices.
La Parilla Restaurant in the downtown is celebrating the annual "mole" culinary fair featuring the cuisine of various regions of Mexico, the event continues through May 31st. (and, no, it's not that kind of mole)
The Flamingo Plaza continues its classic car exhibition in the hotel zone.
Xcaret Eco-Park will celebrate World Environment Day, June 5, 2009.
Xcaret Eco Park will also be host to the sacred Maya journey from Xcaret to Cozumel and back via canoe on May 21-23. Events, re-enactments and various festivities are being held on both Isla Cozumel, Xcaret and Playa Del Carmen.
Puerto Morelos will host its XX International Fishing Tourney May 29 through June 1st.
The 4th annual marathon international swim from Cancun to Isla Mujeres will take place on May 30,2009.
The controversial proposed development of the Pok Ta Pok Golf Course into luxury condominiums will never get off the ground as per representatives of Fonatur, the public agency that oversees tourism development among other venues.
Reports indicate that Cozumel will lose 73 of the previously scheduled 94 Cruise ships slated to make their port of call in Cozumel between May and June.
If we missed something you think is important, please feel free to pass it along and we'll add it to the blog for this past week and the week ahead. The mood in Cancun and the Mexican Caribbean appears to be on the positive side, especially with the non essential travel warnings lifted from the U.S., UK, Canada and the official announcements of the Cruise Ship operators that Cozumel and Majahual's ports will once again be scheduled for stops.
The horizon has been defeated by the pirates of the new age….
Dangers…