01/21/20
Filed under:
Cancun Casa Blog
,
Island Sounds
Posted by:
Dangers
@ 7:09 pm
In this installment of Island Sounds, we venture across the pond to the tropical, ocean front city of Lagos, Nigeria, located in Africa along the South Atlantic, the home of the talented musician Asa, and her incredible soul filled sounds of life and country. We've been listening to Asa for a few years now and are consistently amazed at the singer songwriter's talent and ability to capture not only the feel of her country but the emanating voice of a world that begs for peace and social conscience.
Lekki Beach, Lagos: Courtesy Wikipedia
Now before we start spinning from the soapbox and get ourselves accused of hugging trees and their like, not that there's anything wrong with that, especially a hearty palm tree loaded with coconuts, waiting on a bottle of Barcardi Anejo Rum, we'll let the music do the talking and introduce to the Island Sound collection, the songs from a lady, playing across an ocean, that reminds us that people, pretty much are the same everywhere.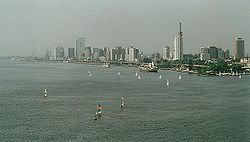 Lagos Island and City Skyline: Courtesy Wikipedia
As such we proudly offer up in this version of the Island Sounds Blog, the wonderful Asa, performing "Fire on the Mountain", courtesy of YouTube, Asa, and Youtube member Raydee27.
Folks, when it comes to music, it doesn't get much better than this…
Dangers…