03/31/09
Representatives from the State Departments of the United States and United Kingdom recommend Cancun to Visitors in Video Courtesy of Cancun.Travel, the official travel site for the government of Mexico. The videos are in obvious response to the negative, often irresponsible foreign, predominantly U.S., media reports lambasting the country in general over its continuing war with drug cartels. The majority of incidents are occurring along the border with the U.S., and in this case, almost 1400 miles from Cancun, which remains relatively safe as does most of Mexico.
Currently, it's estimated that over one million Americans already live in Mexico and more are continuing to flock there for a variety of reasons. Millions of others vacation and visit Mexico each year from the U.S alone and do so without fear of harm and safety issues.
"Many Americans Moving to Mexico in Search of the American Dream"
http://www.alternet.org/immigration/133953/many_americans_moving_to_mexico_in_search_of_the_american_dream/?page=1
But enough from me, watch the videos and read the link article above to find out for yourselves, the videos also include first hand accounts from recent tourists.
Dangers…

Courtesy of Cancun.Travel, the Official Travel Site of Cancun, Mexico.
http://cancun.travel/en/

03/30/09
When I started putting this piece together it came to me as a rather straight forward approach to announcing the new Cuban style restaurant, bar and nightspot in Cancun, the original franchising Cuban hot spot, La Bodeguita Del Medio and their prime time introduction into Cancun of the classic or original Mojito along with Cuban island style music and food. However, after multiple discussions with Mojito aficionados and research it quickly came to mind that almost everyone who favors the Mojito as one of their drinks of choice has their own version of the classic and debates have raged for years on the Mojito as a drink going back to the 1920's.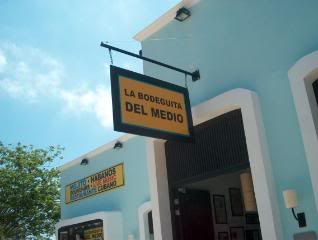 The Hemingway island favorite of lore was first introduced in the 1920's as the Cuban Mojo with Mojo meaning "soul" and Mojito meaning "little soul" according to George Sinclair of the "The Thinking Bartender". Below are two of the published original recipes;
RUM COCKTAIL (Cuban Mojo)
In medium size glass put :
* One teaspoonful sugar
* Juice and rind of a green lime
* Sprig of mint
* One jigger Bacardi Rum
* Several pieces of ice
* Fill glass with soda water.
* Serve with a long spoon.
The next mention of a Mojito recipe in a published book is from 1947, "Bartender's Guide", by Trader Vic.
*1/2 lime*3 sprigs mint
*1 tsp. bar sugar
*2 oz. Puerto Rico rum Squeeze lime and drop shell in 10 oz. glass; add sugar to juice and mint leaves and muddle. Fill glass with shaved ice; pour rum over ice; stir or swizzle until glass frosts. Add dash of charged water; garnish with mint and serve with straws.
Trader Vic was renowned for traveling to the global destination synonymous with a particular cocktail, and then hunting down the authentic recipe. During the 1937 World Fair in Oakland, Trader Vic ran an advert in the local newspaper for his restaurant, in which was listed a Mojito from Habana, Cuba. (The Thinking Bartender)
Over the years debates have raged, bar side I'm sure, over the proper Mojito ingredients and the proper technique to making one. We make no pretense here of what is wrong or right, which personal favorites are better, bitters or not, Havana Club, Barcardi or Jamaican Rum, and who made the original, rather we celebrate the Mojito as a Caribbean Island favorite and by extension offer yet another venue, in Cancun, upon which to allow the debate to rage and for the less discerning amongst us to just sit back and enjoy a Mojito.
As such, we present, as part of our recent travels, one of the new editions to the Cancun scene that we uncovered in our most recent adventure, La Bodeguita Del Medio, nestled in Party Centro, lagoon side in the former Cancun favorite "My Place" site location, in the Hotel Zone. La Bodeguito is a Cuban based franchise off the world famous original in Havana Cuba and has other locations around the world these days including one in Playa Del Carmen. La Bodeguita Del Medio also lays claim to one of the classic original Mojito's recipes but we'll let you decide after tasting whether their excellent version of the Mojito is deserving of the best of show.
We found La Bodeguita as we wandered aimlessly along Cancun's Party Centro district in the late afternoon after a long day of beach walks and general rambling around the various nearby shops, exploring what has changed and what old favorites remained since our last visit. Cancun is one of those towns where nothing seems to remain the same for very long, constantly evolving, reinventing itself as the times change, often for the good, sometimes for the worse and on occasion, such as Hurricane Wilma, out of necessity.
Looking for cool beverages and shelter from the sweltering tropical sun, we brought the party with us and ducked into the friendly confines of La Bodeguita where we found the wait service extremely personable, ashtrays available and a menu and cook standing by and ready. Even if our request for photos and questions regarding the bars recent history drew wary eyes from the Cuban Manager and bartenders. We should note that in Cancun and particularly nearby Isla Mujeres there's always been a Cuban presence of some type given the Yucatan's close proximity to the island nation of Cuba and that presence has had an up and down affair with the Mexican Government due to illegal immigration and other more nefarious issues that don't concern us. Our visit didn't harbor these attitudes one way or the other and while at La Bodeguita we found the atmosphere to be quite friendly, fascinating and a purely cross cultural sampling of the Caribbean Island scene without the baggage of the aforementioned government concerns.
We also found the Mojito, the signature drink, in two versions, one more sweetened than another but basically familiar to the taste and surprisingly refreshing in iced down tall cold glasses. The Mojito in itself on a hot day is a smooth, cold, mint induced drink laden with blanco Havana Rum in this case, sweetened with sugar and lime juice, alternatively served w/ lime wedge or punctuated with juice.
It's an amazingly refreshing drink, goes down easy and hints of summertime non alcohol ades though there can be no mistaking its potency and strength. It's little wonder, Ernest Hemingway and thousands of others have found cool solace and relief under the Mojito's spells.
La Bodeguita resides in an unpretentious facade, preferring to recall its Cuban roots as it stands out amongst the more gaudy of the typical Cancun restaurant and retail scene, adjacent to the flea market across from Coral Negro and neighboring the very visible and modern OXXO convenience store.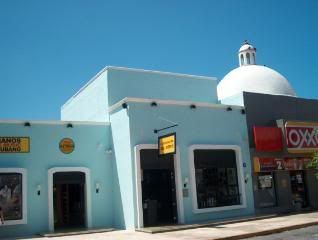 The interior is a mix of Mexican and Cuban style layouts with Cuban themed artwork, celebrity autographed pictures and patron signed walls. At the heart of the establishment is its old world bar, a throw back to the days when men saddled up to local bars and pubs drinking off the days work and relishing in fanciful boat tales well into the night. La Bodeguita's bar is stocked heavily with the famous import of choice, Havana Club Rum and the finest cigars from Cuba.
To the rear of the bar is the stage area, home to Cuban style bands, featuring live music in the evening and ample room for the dance floor. The service was very good and both English and Spanish was spoken fluently by the waiters. The food we sampled, a sweet leche topped offering of fried plantains was outstanding and the seafood based dishes were excellent, including a specially prepared combination tray featuring shrimp.
La Bodeguita Del Medio also offers a gift shop and nightly entertainment that attracts both local and tourist alike with Cuban based themes, food and music, along with their signature drink the Mojito.
This one gets the thumbs up from us and is recommended.
The sun has set over the sea, And the lights are way down low, He's probably had 'bout two or three, Mojito Joe…
The Hormonauts
Till next time, this Mojito's for you…

Dangers

03/26/09
Or a strange thing or two happened on the way to the cantina…
Now, it has occurred to me over the years that age and staying out late just aren't what they use to be when I was still a pup exploring the outer edges of Cancun and the rest of the now named Riviera Maya. It's not that I'm not a night owl, I still am, it's just that all this real world living over the years has me more of a morning shaker than I'd like to be. Sleeping in and carousing the night away use to be the rule of thumb, especially while in Cancun but my partner in life, the lovely Mrs. D, more commonly known as Ruth or as nicknamed, Norma Rae, is the social opposite, a dreaded early riser of the first order, one of those jump from the sheets to the shower to the door folks. As such, every trip to Cancun seems to find me turning in earlier and earlier, of course that's no so bad, as I get to have coffee and Bailey's Irish Cream on my balcony every morning watching the Cancun sunrise, early day beach walks and we're generally a couple hours ahead of most of the pack of our fellow travelers by doing such.
Hell, we even get to see who those mysterious phantoms are that save beach and pool lounge chairs by the droves in the wee hours of the morning at most resorts. Strange misshapen people with bad hair and mismatched clothes carrying all sorts of hidden valuable items in the chase to get the best spot in the resort for a few hours of glorious sunbathing. Apparently towels aren't the only thing you can save lounge chairs with you can use flip flops, sandals, magazines, key chains, beach bags, children, and even hats.
I'd like to thank the people for the key chains and books particularly, the book made good reading on the way home and I needed a new Cancun Key Chain for the keys to the John Deere.
As you might presume, Mrs. D and I don't opt for the "Save a Chair, Before Combing Your Hair" theory of sunbathing. In any case we're usually out and about anyway, in the sun but doing our own thing by lunchtime even if Mrs. D has developed a penchant for tacky poolside bingo games with cheap trinkets as prizes. This year she beat them for a Mexican blanket that will make a fine bed addition for one of our Labrador Retrievers and it even matches the rooms decor.
Usually though we're out, as in gone, off resort, away from the madness of lounge chair savers, cheesy bingo and drinking games, and this weeks Mr. and Mrs. Cancun contest. This past trip we spent many a R&R period sipping and drinking cold cerveza, tequila, Barcardi Anejo and Havana Club with a few cokes and a hundred or so bottled waters thrown in for good measure during the afternoons, exploring some old haunts, finding some new ones and flopping where we may. You see, we take the party with us.
One of my favorites is the touristy but fun Margaritaville franchised by Jimmy Buffett and a bunch of suits in Florida. Give Buffett and the suits credit though, the bars are fun, have better than average chain style food and the music works, especially in a place like Cancun. If you look closely enough, you'll see a pre Hurricane Wilma Dollar Bill signed by yours truly still hanging over the bar.
On St. Pat's afternoon, we skipped the obvious in Pat O's Cancun version and opted for a couple Caribbean front beach spots in Playa del Carmen, the spring break loud but crazy Senor Frogs and a cantina who's name escapes me but had great cerviche and cold beer a block or so away on the beachfront.
Later in the trip we stumbled upon the new cantina that replaced the late great "My Place" in Cancun, in the old clubs location is now the La Bodeguita del Medio, a Cuban franchised bar and restaurant featuring the sounds and cuisine of Cuba. The food here is terrific, the Mojito's first rate and refreshing, and the service excellent despite some of the rather odd stares I encountered when taking pictures. I mean c'mon guys, this here Gringo doesn't look anything like an immigration agent.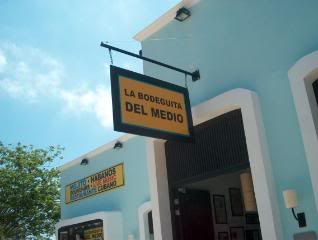 Yet another day snuck in early courtesy of the new opening of the new restaurant and bar at the site of the former Friday's a new regional Mexican eatery called Calenda Oaxaca. This is one we'll have to further explore on our next visit. The drinks were cold, the folks working there extremely friendly, and the menu looked enticing.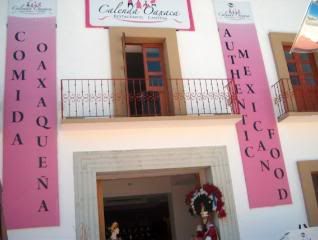 Then of course we had to grab a few beverages of our choice at the Hotel.
And a drink or few on the beach.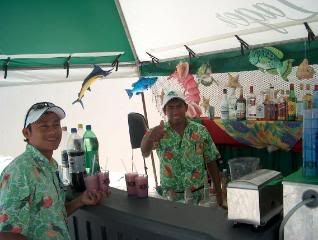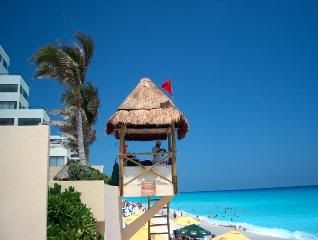 Then there were those places off the beaten track that a stop on a hot, dusty road is a must.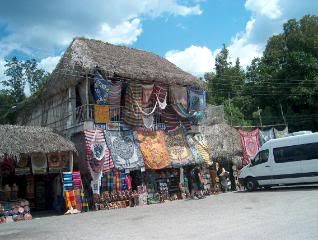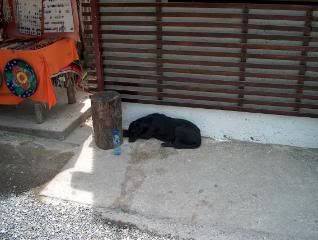 Along the way there were others, tiny hole in the walls, the tourist traps and the places we stopped when we were just plain thirsty. Like the gal in the photo above, too much this and too much that can lead to an early siesta on those hot afternoons especially when traveling within the tropical forest to places like the major Maya Ruins at Coba.
Coba, Mojitos and more in our next blog, stay tuned…
And I love to live so pleasantly, Live this life of luxury, Lazing on a sunny afternoon, in Cancun…

Dangers
03/22/09
Somebody tell me I'm not in Cancun anymore, the Latin vibes of Caribbean Mexico are echoing in my ears like an unstoppable tour de force of sound, penetrating the rhythms of the soul, well past the airbus touchdown and screeching runway wheels bracing for the vacation breaks.

In reality, coming back from Cancun always gets me down, it's that living on Isla time thing that really throws me. Since back in 1987, when I first inhaled the Caribbean sea spray and launched the first episode of my personal love affair with Mexico's Caribbean, culture and history, I've been addicted. As much as I enjoy Cancun though, she's always been the staging ground for my wider adventures in the Yucatan, particularly in my scuba and free diving days, and expeditions to the Maya ruins.
Growing up, I spent a large portion of my youth along the South Jersey Coast, learning the ins and outs of boating, fishing, water sports and a laid back atmosphere not very conducive to the day to day hustle and bustle of Northeast living that as an adult I've also become attuned to. Cancun played right into that background with its world vacation destination status where I was able to slide beneath the polished shell of tourism, to the earthier people side, that was the real Cancun, and not some megalomaniac's small buck, big bang Hollywood production falsely showing the behind the scenes Cancun.
The first trip in 1987 had an obviously more youthful and fit me wandering the ruins at Chichen Itza for two days, Tulum and El Rey for another, diving and drinking in Cozumel for a few nights and wandering my favorite place in the region, Isla Mujeres, for a day or two. In between, I celebrated a divorce, my first and preferably last, tanked out more than a few tourist bars and local cantinas and spent a lazy day and night in a Hemingway like fishing village with a ferry called Puerto Morelos sipping homemade Mojitos.
Twenty two years later I find that Cancun has grown up and older as have I, sometimes for the better, sometimes for the worse, however I still clasp the now middle age gal closely to the heart as I swept out on yet another travel adventure, utilizing Cancun as the base camp, this time with my lovely lady and wife Ruth at my side, as she has been for so many previous trips and explorations.

This most recent trek had us scurrying up the coast from just shy of the beautiful beaches of Isla Blanca to the still mostly rural Maya ruins at Coba. The trip, part vacation and part mission, I set out to find all that negative media I'd been reading about and to stock pictures by the hundreds for this blog and elsewhere for future use. In reality though, I set out to free my soul once again from the chains that hold us down in life, the responsibilities, to once again remember that time in life when I was just a kid, crabbing and fishing off some shanty pier in a Jersey Coastal village with my father and grandfather, lazing about in the sun, thinking about how great it would be to catch the next wave or what wonders a drivers license would do for a young man.
Cancun can do that for me, help me to remember, focus on what really is important, and it's not the job, the bucks, the politically correct creed but rather it's family, religion, nature, and people. It's that fresh sea air on a towering sunrise or the sweet tears of a sunset in the tropical forest that return me to the soul. A Maya native clinging to the land proudly offering me a seat at his table, a drink from his family's cenote, and the smiles on his child's face. It's a long time Mexican friend and his family sharing stories and dinner, holiday greetings and that inner soul that stretches through language, national boundries and political parties, a thing called friendship and trust.
But…
Before I drift to far here, and trust me in near future blogs there's more to come, I need to pass on the news worthy details for the fact orientated curious; Cancun is safe, Playa Del Carmen is safe, Tulum is safe, in fact, the entire length of Quintana Roo seemed relatively safe for visitors, tourists and locals alike, as safe as I've experienced it.
The weather was downright spectacular, clear, sunny, temperatures in the 80's (f) and rain was very hard to come by.
The beaches, while still in need of the much publicized sand replenishment project, were going through the annual natural replenishment cycle, where the sea returns much of the sand she has taken, in the late winter and spring seasons, this after the late in the year tropical storm season has washed much of them away.
The Cancun Hotel Zone was packing them in, I don't know what the final tally comparisons will look like compared with previous years but occupancy by all reports and my own eye witness anecdotal estimates was purring along at a solid 80% plus with the major tourist venues doing strong business. The restaurant and shop businesses appeared to be off from previous years, no statistical proof on this, but perhaps many tourists who still ventured out on vacation despite the irresponsible reports in the U.S. media were packing it in tight at the hotels and not heading out and about. Certainly, the all inclusive aspect of many hotels have also continued to sting the local businesses and the worldwide recession is of no help either.
While I wrap up this Cancun: 2009 primer, let me say that for the better part of two weeks, we wandered the coast and parts of the rural areas and the downtown areas of Cancun without issue, spoke with many locals, tourists and even the policia, and found nothing that would deter me from visiting Cancun or anywhere else in the Mexican State of Quintana Roo. In fact, nothing did, we drank and ate in sidewalk cafes in Cancun City late into the night, played and partied throughout the Hotel Zone, raised havoc in the afternoon in Playa del Carmen on St. Pat's day and lazed about in no name cafes in both the towns of Tulum and the very rural Coba, well into the tropical forest. We didn't experience the mordida, we didn't get murdered, robbed or assualted, of course we weren't out and about raping and pillaging either though on a more serious side, we don't visit drug dealers, prostitutes or lawyers either while on vacation.
And, now since I cleared the path for them, I hear that U.S. President Barack Obama and Secretary of State Hillary Clinton will be visiting Mexico.
I wonder if Obama has ever had a Mojito?

To Be Continued…
Hey, how's it going, my rhythm, good for enjoying…
Dangers