11/24/09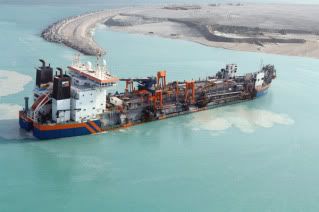 (The Sand Dredger "Terranova"in a prior project,courtesy of bruinhof.nl/stock)
By popular demand and as a relaxing respite to this avid blogger comes photographs of the Cancun Beach Restoration courtesy of the government of Quintana Roo, Mexico. The beach restoration work has been highly active despite a brief delay from Hurricane Ida and is currently focused on the area just south of Punta Cancun and Dreams Cancun Hotel and Resort. The beach restoration contractor Belgian, Jan de Nul and their Mexican subsidiary, Dragados have been working 24/7, weather permitting to revive the Cancun southern hotel zone beachfront and are moving at a rapid pace, particularly after the arrival of a second major sand dredging ship last last week.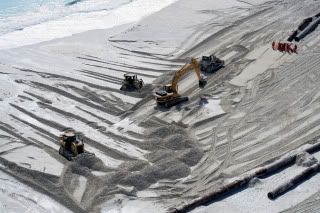 (Heavy equipment spreads sand recently mined offshore)

( Local officials monitor the beach work)

(Workers survey the lay of the land)

(Spreading the new found wealth)

(The mandatory photo-op)
Now, with a bit of luck, good weather and legal issues presumably behind them, the full restoration of beaches in Cancun may continue with an anticipated completion on or about the early part of January if not sooner. The project will also be moving south to the Playacar area of Playa Del Carmen and eventually over to specific beaches on Isla Cozumel in the near future.
Future visitors to Cancun should check with their resort to ascertain the progress of the project as it may pertain to their hotel. Thus far, most reports have indicated little issue from the tourists in Cancun regarding the project, finding the added attraction of the ongoing beach work to be a point of interest during their stay. Please keep in mind that not all the beaches are effected by the work and in most cases, access is maintained for hotel guests for beach and swimming availability.
For more information and background on the Cancun Beach Restoration, please feel free to visit our past blogs at; Cancun Beach Restoration 2009 , we would also like to thank the government of Quintana Roo, Mexico for making the photographs above available.
10/25/09
(Cancun Beach, North to Punta Cancun; By Cancun Casa)
In this edition of the Cancun Casa Blog, we'll attempt to bring you up to date on the news in and around Cancun, Mexico during the traditional "slow season", September through late November. We're playing a bit of Cancun Casa Catch -Up here on the news blog, so we'll jump right in momentarily. As a sidebar, we will tell you that this time of year is a terrific period of the year to visit the Mexican Caribbean, including Cancun, the weather is beautiful, the crowds are nil and the sale prices on hotels and vacation packages extremely enticing. So, if you find your mind wandering to palm trees, moon lit beaches and a hankering for the land of the Maya, there's likely no better place to start than Cancun, Mexico.
Hopper Dredger "Kaishuu" (Courtesy of VesselTracker.com)
(Fiesta Americana Coral Beach Hotel by CancunCasa)
Hotel Occupancy:

Better known as the Cancun Stock Market, a euphemism used to describe the growing or waning fortunes of the tourism industry in Cancun, the city and her citizens lifeblood, has settled into a paltry 41% average for the month of October as of the 21st of the month. The same period last year had averages near 52% occupancy for the hotel sector or approximately a 20% decline in occupancy over the same period last year. The reasons for the downtown are the world recessionary economic climate, continued long range fallout from the disinformation associated with Mexico as a result of the world wide swine flu A-H1N1 pandemic, and publicity, often erroneously attached to Cancun from the drug cartel Mexico-US border wars, some 1100 miles away.
(Pericos Restaurant Promotional)
U.S. Citizen Murdered in Downtown Cancun:

In a tragic killing that may be related to illegal immigration from Cuba to Mexico to the United States, it appears a Cuban- American male, in his sixties, with U.S. citizenship and a past address in the State of Indiana, now residing, at least part time in Cancun and possibly Miami, Florida, was assassinated by three men in downtown Cancun. The man was assaulted and stabbed by three unknown assailants, described by witnesses to be possibly, Cuban, late night in a Cancun neighborhood, far from the tourist district. Local police and authorities are investigating the crime scene and robbery has been ruled out as a motive…

In a late breaking update to this story Judicial Police in Cancun have arrested a 32 year old woman reported to have some type of employment relationship with the victim as a potential accomplice to the attack, and in a rather strange twist are now indicating the attack may have been part of a greater robbery plot. Earlier reports from local police had indicated that robbery was not a motive based on the untouched personal possessions on the victim left at the scene of the crime, leading police to speculate on the reason for the assassination. It has yet to be confirmed whether this involves members of the Cuban community in Cancun, as witnesses to the crime scene had led local police to speculate, in earlier reports. Based on the most recent report, courtesy of Diario de Yucatan, the woman arrested remains in custody at the Cancun jail.

http://www.yucatan.com.mx/noticia.asp?cx=15$4108080000$4179216&f=20091025
(Cancun Beach, Near Playa Delphines: By Cancun Casa)
10/18/09
The long awaited Cancun, Mexico beach restoration project is underway, during the last few weeks private contractors, Dutch Company Jan de Nul and their subsidiary Mexico based Dragados have been doing preparatory work for the restoration of approximately 11.1 kilometers of beach area in Cancun's southern hotel zone, the primary area of Cancun beach restoration.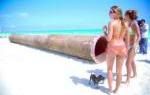 (Courtesy of Sipse/Novedades)
Large amounts of piping and machinery have been coming to Cancun every week along with barges and associated heavy equipment to be used in the project. Reports from the local media in Cancun indicate that piping to be used for sand replenishment is being assembled at various beaches with the beach area near the Bay View Grand Condominium complex established as one of the main staging areas. Additional reports indicate that piping is already in place at the area of the Le Blanc Resort beach with other areas soon to follow.
A specialized dredging vessel and sand mining equipment is expected to arrive between October 18 and October 20 to begin the actual underwater sand mining and sand filling along the beaches in Cancun in short order.
Officially, it is expected, Mexican dignitaries, including high ranking Mexican officials of government will formally announce, in Cancun, the recovery of beaches in Quintana Roo, is underway later this week.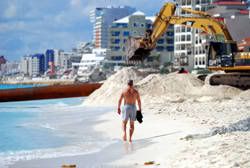 (Courtesy of Por Esto)
The beach restoration project overall includes an area of beach recovery in Cancun from Punta Cancun to Punta Nizuc, approximately, the area just south of Dreams Cancun Resort at Punta Cancun, running 11.1 kilometers south to Club Med's Cancun based resort at Punta Nizuc. The project also includes beach areas in the Playacar area of Playa Del Carmen and specific beaches on Isla Cozumel.
We would caution from this end that the project has been rife with delays and weather can certainly be a determining factor in the progression of work. However, the project is now set to begin it's primary stages of restoration and work may move rapidly once underway. Also, the recovery project does not include beach areas North of Punta Cancun or the already restored popular beach at Playa Norte on Isla Mujeres.
For those looking for more in depth information, one of our previous blogs may assist in providing more detailed perspective;
Cancun : Where's the Beach? Restoration Project Dates and Timeline
The information in this issue of the Cancun Casa Blog was provided via multiple media and government based sources. Recent sources of information can be found at;
Novedades: http://www.sipse.com/noticias/16044-rescate-playas-unos-dias.html
Por Esto: http://www.poresto.net/cgi-bin/news.cgi?f=12351
Choose to chance the rapids and dare to dance the tides. - Garth Brooks, The River


09/07/09
These days if we're talking Cancun, especially during the current slow season, we must be talking the Beach Restoration Project. Sure, there's low hotel occupancy, a smattering of swine flu around in a topic that may rear it's ugly head worldwide in the later part of this year and early next, and then there's the vacation sales discounts that haven't been seen in years. But, despite it all, it's beach restoration that has Cancun, along with her sister resort areas, Playa Del Carmen and Cozumel, in the Mexican State of Quintana Roo all a buzz.
The only problem is, the Beach Restoration Project has been delayed so many times that no one, and I mean no one, is ever quite sure what the scheduling of the work time line is going to be. And, hell there's still the tropical storm season to deal with, well, two months of it anyway. However, rest assured, it's going to happen, in fact the citizenry and government officials up and down Quintana Roo are bubbling with anticipation, at least as far south as Playacar, just south of Playa Del Carmen, the primary benefactor of restoration outside of Cancun. Now, we don't want to keep you in anticipation of the coming events any further, just don't hold your breathe or make life altering decisions based on the information we're about to give you, as with everything in Mexico, the below announced dates and schedules are subject to change and/ or delays.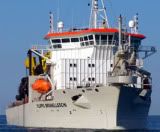 (Dredger at sea, Courtesy of Jan De Nul)
First the basics, Dredger ships are scheduled to arrive in Puerto Progreso, Yucatan this week from overseas, operated by the private contractor,
Jan De Nul
, along with Mexican subsidiary company
Dragados
, assigned the $80,000,000 US plus contract for the project. Machinery and submersible breakwaters are also scheduled to arrive along with them at an undisclosed location in Quintana Roo for the project. Prior to the actual depositing of sand, breakwaters will be established in designated areas of Cancun, Playa Del Carmen and Cozumel, so don't gaze starry eyed at the incoming shipping and machinery, thinking that in a few short days that sand will appear miraculously over new, widespread, beautiful beach fronts.
(Cancun Beach Photo during Post Hurricane Wilma Restoration)
The sand used in the beach replenishment will actually have to be mined or dredged up from the ocean floor, the primary area of this sand mining to occur offshore of Cozumel at a marine area known as the North Bank. The area is stated to be an area where the confluence of oceanic currents occurs in the Caribbean Sea that naturally causes the the build up of large sand deposits. The Mexican Environmental Agency has cleared the area for sand extraction despite protests on Cozumel stemming from fears of the North Bank area providing a natural buffer from hurricanes and tidal surges. The same agency has also shot down the notion the area is productive breeding habitat for the endangered marine species, the Pink Conch. The secondary sand extraction area is also a marine area offshore of Isla Mujeres and Cancun.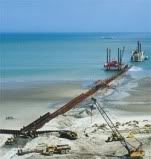 (Beach Reclamation Equipment in action during previous work, Courtesy Jan De Nul)

The beach restoration project is expected to continue for at least 151 days from inception, ending on or about February 10, 2010. It is anticipated that topographical studies and bathymetry are already underway and will continue during the project to properly place man made breakwaters and additional submersible apparatus as required. In Cancun, the project will focus on the 12KM of beach between Punta Cancun and Punta Nizuc. In Playa Del Carmen, the main area of restoration is the Playacar area and in Cozumel, to a lesser extent, specific beaches are targeted for replenishment.
Reported Dates of Interest*:
Puerto Progreso, Yucatan
September 5, 2009: Estimated Arrival, Specialized Ships used for dredging, sand mining and bulk sand placement.
Cancun:
September 15, 2009 - December 28, 2009: Initial placement and construction of breakwaters in Cancun.
Early October, 2009- December 19, 2009: Beach Replenishment/ Addition of Sand to 12 KM of beach in Cancun.
Playa Del Carmen:
September 21, 2009 - November 19, 2009: Initial placement and construction of breakwaters in Playa Del Carmen.
December 11, 2009- December 20, 2009: Beach Replenishment/ Addition of Sand to select beaches
Isla Cozumel:
September 21, 2009 - November 19, 2009: Initial placement and construction of breakwaters
December 11, 2009- January 20, 2010: Beach Replenishment/ Addition of Sand to select beaches
*(All Dates Approximate and Subject to Delay, the information is deemed reliable but not guaranteed.)
The information in this edition of the Cancun Casa Blog was compiled from multiple sources, official and media related.
We'll get a golden island…We'll feed the food to the ford, And we'll live off the coconut…

Dangers…