05/03/09
(Updated : 05/03/09, 23:00 EST)
Breaking News…

First case of Influenza A(H1N1) confirmed in Chetumal, Quintana Roo by Mexican officials. Chetumal is located some 241 miles south of Cancun and is the capital of the state of Quintana Roo. The city is home to an estimated population of 140,000.
http://www.chetumail.com/?c=120&a=5584
(Updated: 05/03/09, 14:00 EST)
The stranglehold of fear continues to hold Cancun hostage in this swine flu A(H1N1) scare as Cancun, Mexico, still without any confirmed cases of the swine flu variant spends another day in the fog of doubt. Cancun and her neighbors in the State of Quintana Roo are being marooned by the world at large as each day more and more vacationers cancel out of fear, their plans to visit the Jewel of the Mexican Caribbean, and have no doubt about it, as Cancun goes, is as the rest of the Mexican Caribbean goes, even if the local folks are sometimes loathe to admit it.
Currently Cancun is officially in Day 2 (editor's note, now Day 3 w/updates) of the swine flu siege under the self imposed rule of government handed down earlier in the week from Federal officials in Mexico City. In reality, Cancun and her sister resorts have been stung since the onset of the swine flu outbreaks and subsequent scares, hotel occupancy is down, air passenger travel is down and the many tourist based and non tourist based venues have been forced to close including the history of the Maya, the magnificent Chichen Itza, along with Tulum and Coba, the archaeological bell weathers that have survived 2000 years of hurricanes, war, disease and man's stupidity to man.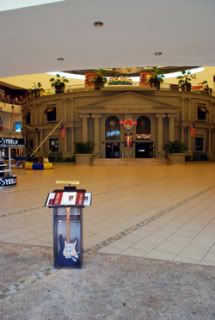 (Forum by the Sea Mall, Cancun:Courtesy of Por Esto)
As such, here's what we have for you from the traveler's perspective as of today in Cancun;
Despite the Federal Government mandate regarding the shut down of non essential services in the private and public sector many businesses remain open. What hasn't been reported widely is that the Mexican Government took advantage of a long holiday weekend to apply these measures where in many cases, businesses and schools would have been closed or operating under holiday hours.
May 1: Labor Day
May 3: Day of the Holy Cross ( religious holiday)
May 5: Cinco de Mayo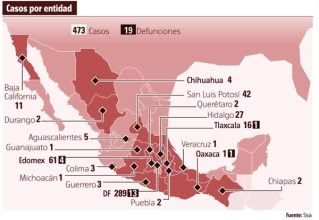 (Swine Flu Confirmed Cases 473 with 19 fatalities, Courtesy of Sipse.com/ Editor's Update: The WHO announced today the count is now 506 cases w/19 deaths in Mexico, in the U.S. there is 226 cases w/ one death in 18 states, in addition, there is confirmed cases worldwide in 16 other countries.)

1) Under Federal mandate; all non essential business has been curtailed or closed outright with many notable exceptions until May 5, 2009.
2) All archaeological sites have been closed until at least May 6, 2009, further reports indicate that after being requested by the Federal Government to close indefinitely, the request may be rescinded and the sites reopened early.
3) All Schools are closed temporarily.
4) Many restaurants, bars, clubs and retail areas, especially food service and suppliers remain open, most with limited hours. There's reports that the large indoor nightclubs have either limited occupancy available or have closed temporarily.
5) Shopping Malls are open though large anchor type stores are reported closed in some shopping centers and hours are limited.
6)Hotels in the Cancun Hotel Zone are still operating though due to cancellations and limited business many are closing off sections, floors and either furloughing via vacations or laying off employees. In some cases, the chain style hotels are consolidating resorts by moving guests to one resort that were scheduled for stays at another sister resort, the sister resorts adversely effected will operate with minimal staffing and depending on the length of the swine flu situation, potentially close in the interim. The hotel, the Oasis Viva Beach, will close but it was noted that this had been a planned closing for renovations.
There's reports, yet unconfirmed, that guests at the Riu Caribe are being switched to other sister resorts, guests at the Melia owned "ME" are being switched to the Gran Melia and that Dreams Cancun is operating at 25% but remains open. We've also seen a report of Cancun Club Med scaling back operations but remaining open. As this situation continues, we would expect more resort consolidations by the resorts with the ability to do so in the Hotel Zone.
7) The Eco-Parks, Xcaret and Xel Ha remain open.
8) Marinas remain open.
9) Many of the International Airlines including the U.S. are consolidating or in some cases canceling flights, if you have flight plans, contact your airline representatives.
10) Some large scale tour operators, notably in the UK, have canceled flights and trips to Mexico in the near future, once again contact your tour representatives.
11) The Cancun International Airport is open.


(Courtesy of Por Esto)
12) Air passengers are being checked with health prevention equipment that is basically a quick body temperature check and are being asked to fill out two health questionnaires.

13) Passengers are subject to health review on both arrival and departures.
14) Downtown Cancun is alive with the sights and sounds of modern day Mexico with many of the locals out and about enjoying the weekend, even if some businesses have limited hours or have closed.
15) Further reports indicate that public beaches are open and remaining tourists and locals alike are utilizing them.
16) The marinas remain open providing transportation to and from Isla Mujeres where thermal checks may be applied to those arriving and leaving the Isla.
17) Public transportation remains available.
18) Most public outdoor bars and clubs remain open with limited occupancy while some indoor clubs have either limited occupancy and hours or have closed.
19) In Playa del Carmen, beaches are open, shops, restaurants and bars also remain open along Fifth Avenue in most cases under applicable new rules regarding occupancy.
20) There's reports of the nightclubs and the "adult" clubs being required to close in PDC but no confirmation.
21) Marooned on Isla Holbox: a press report indicates that residents and tourists alike have been refused to enter or exit Isla Holbox and that the Mexican Government has basically locked down transportation to the Isla in an attempt to assure containment to the Isla from exposure to swine flu. http://www.diariodenavarra.es/20090503/navarra/no-nos-permiten-salir-isla-holbox-temor-gripe-a.html?not=2009050301195912&idnot=2009050301195912&dia=20090503&seccion=navarra&seccion2=sociedad&chnl=10&ph=101
22) The body of a woman, age unknown, estimated to be 30 years of age was found dead, at Playa Delphines in the Hotel Zone, adjacent to the area of the Hilton Hotel, at KM17.5. Police were alerted by a taxi driver who saw the body in the surf, in what was originally suspected as a drowning, however, police are now treating this as a homicide. The woman appears to be a foreigner and possibly a tourist, police are investigating. http://www.dqr.com.mx/index.php/Benito-Juarez/Nota-RojaBJ/Golpean-y-ahogan-a-una-femina.html
23) The WHO is continuing to state that there is no rationale for international travel restrictions, stating that it is ineffective in halting the movement of the virus. http://www.who.int/en/
24) In Cozumel, 21 Cruise Ships have canceled their ports of call on the island over the last two weeks. Hotels are also reporting steep declines as are other tourism related businesses. Layoffs of temporary workers and reduced hours are being reported by the Cozumel Hotel Association President due to estimated occupancies at resorts of 35%. Cozumel receives an estimated 90-95% of its annual revenues from the cruise trade and related business. http://www.sipse.com/nota.php?id=35448
Please keep in mind that things can and are at times changing rapidly on the ground, what we're attempting to provide you here are tips for travel and reminders that things aren't operating under normal conditions. The greater Cancun area is starting to suffer economically from the lack of visitors, much of it due to cancellations of previous reservations and tour operators temporarily ceasing operations for their clients in the region. If you are scheduled for travel to Cancun, confirm your arrangements, and go and enjoy your vacation, should you desire.

Also, once again, there are as of this date, no confirmed cases of swine flu A(H1N1) influenza in Cancun, though there's still potential cases being tested and one suspected case is of a sixty four year old whom died while showing signs of influenza style related complications. All suspected cases to date have tested negative for the A(H1N1) strain variant of influenza in Cancun.

If you've already been Marooned in Cancun, enjoy the vacation.
We'll leave you once again, with a terrific music video, featuring music by the rock band Pink Floyd, Marooned, with great island footage and of course that beautiful, aqua hued, island water. Just click the music video center arrow and let play, please feel free to peruse our blog while listening.
Dangers…