01/17/10
Filed under:
Cancun Casa Blog
Posted by:
Dangers
@ 4:12 pm
"We Need Help"
(Courtesy of the UN/Logan Abassi)
Coming off our holiday hiatus here at Cancun Casa, we fully expected to be raving about the beach recovery project along the shores of Cancun and Playa Del Carmen, but fate has a way of dealing the cards in other directions as the tragedy occurring currently, at the small Caribbean island nation of Haiti, a short distance from Mexico, Cuba, Jamaica and the US, has focused us on the real world need for help and humanity in Haiti where hell has taken a holiday and laid down an almost incomprehensible scene of devastation.
(Courtesy of the UN/Logan Abassi)
Haiti, sharing the island of Hispaniola with her neighbor, the Dominican Republic, was hit by a 7.0 Richter scale earthquake on Tuesday, January 12, 2010 at 9:53 PM UTC. The earthquake epicenter was just west of the heavily populated Haitian capitol of Port- Au- Prince and has killed tens of thousands while destroying hundreds if not thousands of structures throughout the island nation. Currently, massive relief efforts are underway, attempting to overcome the widespread damage caused by the earthquake to Haitian society, damage that has reaped havoc on major infrastructure, water and food supplies, medical supplies and services, transportation, communications and the Haitian government itself. Many hospitals, government buildings, emergency service buildings, hotels, stores, schools and scores of homes have been either completely destroyed or decimated by the earthquake to render them unsound and unsafe. Most with people trapped inside either already dead, injured or dying. The early estimates indicate that the death toll could rise to upwards of 150,000 people with large portions of the surviving populace with out basic human life sustaining needs such as water, food and medicine.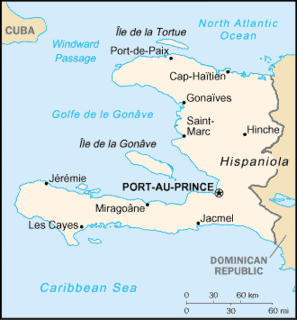 (Courtesy of the USGS)
Relief efforts are underway from the International Community, including the UN, small and large charitable organizations, and amongst the Haitian survivors whom are banding together despite the disaster to save their countrymen if not their country. Across the America's and the Globe, people and governments are mobilizing to send humanitarian aid and assistance for this tragic event. The Haitian government has already ceded control of the airports to the US Military, Cuba has cleared international air space rights for relief efforts, foreign ships are being loaded, and sent to the Caribbean with relief supplies, and worldwide, airlifts are underway to provide much needed help, some from as as far away as China.
(Courtesy of the UN/Logan Abassi)
Unfortunately, at this time, it still isn't enough, many of the on the ground support services already pre-existing in Haiti, from the United Nations, to Catholic Relief Services, to the Red Cross, have suffered severe losses in the earthquake already, to not only their infrastructure, but in the tragic loss of the lives of the men and women who helped provide aid and medical assistance to Haitians prior to the earthquake. The main UN building in Port-Au-Prince was also destroyed with a major loss of human life along with other charitable aid buildings from various organizations.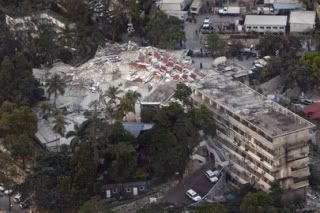 "The UN Building in Haiti"
(Courtesy of the UN/Logan Abassi)
"The former 5-Story Hotel Montana"
(Courtesy of the UN/Logan Abassi)
"The Haitian Presidential Palace"
(Courtesy of the UN/Logan Abassi)
If you can help, please do, the pleas, now worldwide, from the victims on the ground in Haiti, from their family members and friends, to the leaders of foreign governments, including former U.S. President's Clinton and Bush, to current President Obama, and of course, the government and people of Haiti, one thing is clear, the people of Haiti need our help.
"Bodies of the Dead laid out for Identification"
(Courtesy of the UN/Logan Abassi)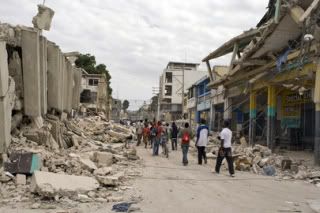 "Devastation Everywhere"
(Courtesy of the UN/Logan Abassi)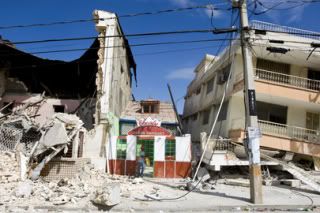 (Courtesy of the UN/Logan Abassi)
Below is a partial list of organizations assisting in the relief, courtesy of
FOX News
if you can help, we, here at Cancun Casa, request you donate your support wherever possible or with the organization of your choice to assist the people of Haiti.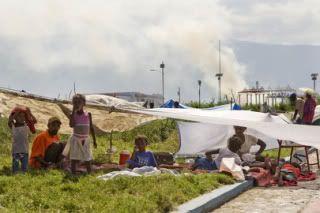 (Courtesy of the UN/Logan Abassi)
Thank you…
• Action Against Hunger:
ACF International has mobilized an emergency response following the
earthquake that devastated the city of Port-au-Prince. ACF teams on the
ground have begun to carry out rapid evaluations across the city, while
additional support, equipment, and materials — including water
treatment supplies, emergency vehicles, and communications equipment —
are en route from ACF's bases in Gonaives.

• ActionAid:
ActionAid asks for donations for its relief efforts. ActionAid has been
working in Haiti since 1996 and is deploying an emergency team to
deliver clean water, shelter and goods like blankets and soap.
• ADRA:
ADRA is launching an initial response worth $85,000 to meet the
immediate needs of survivors. According to an initial assessment, the
immediate needs include water purification supplies, food, temporary
shelter materials, hygiene kits, and medical assistance.
• American Red Cross:
The American Red Cross has pledged an initial $200,000 to assist
communities impacted by the earthquake in Haiti, and is prepared to
take further action as local responders assess the situation.
• American Friends Service Committee:
Accepting financial aid only at this time. Funds will go to immediate
material needs and to help Haitians themselves rebuild their
communities.
• AME-SADA:
AME-SADA is currently assessing the situation in Haiti and will provide
humanitarian relief and care on site through their system of local
clinics and micro credit operations.
• Americares: Specializes in immediate disaster relief
• American Jewish Joint Distribution Committee:
The world's largest Jewish humanitarian assistance organization is
collecting funds for relief efforts and working with partners on the
ground in Haiti.
• American Jewish World Service:
Donations will enable AJWS's network of grantees in Haiti to meet the
urgent needs of the population based on real-time, on-the-ground
assessments.
• Catholic Relief Services: Donations will go to help Haiti victims, who are still recovering from the deadly 2008 hurricanes.
• CARE: CARE donations will go to deliver emergency aid to victims of the impoverished nation's capital city.
• CONCERN Worldwide:
Concern Worlwide US calls on the public for urgent support to allow the
agency to provide food, water, shelter and medicine as the immediate
priority for those that have survived the catastrophe.
• Direct Relief International:
Direct Relief's response efforts are fast, involve local partners, and
are coordinated with other international organizations and governmental
authorities to ensure the most efficient use of resources.
• Food for the Hungry:
FH's operational focus in Haiti is HIV/AIDS and Child/Maternal health,
and we will be looking to respond in these areas as well as other areas
of need.
• Giving Children Hope: Giving Children Hope is talking with partners in Haiti, determining the greatest needs of the earthquake victims.
• Habitat for Humanity:
Habitat for Humanity International is addressing shelter solutions for
low-income families affected by the earthquake. Habitat's ability to
respond effectively to this disaster will require support from donors,
volunteers, corporate partners and other community organizations.
• Hands On Disaster Response:
Hands On Disaster Response (HODR) is returning to Haiti after a
2008-2009 hurricane response project, to determine how and where the
organization's main resource of volunteers would be most effective in
the response and recovery efforts.
• Handicap International:
Already present in Haiti, Handicap International reacted rapidly to the
earthquake, which hit the country Tuesday night. The association
released $217,657 in funding Wednesday and will provide support for the
team.
• International Medical Corps: International Medical Corps is deploying an Emergency Response Team to Haiti.
• International Relief Teams:
International Relief Teams (IRT) is appealing for cash donations to
help the victims of the powerful 7.0 magnitude earthquake that struck
near the capital city of Port-au-Prince.
• The International Rescue Committee:
The International Rescue Committee is deploying its Emergency Response
Team to Haiti to deliver urgent assistance to earthquake survivors and
help overwhelmed local aid. They'll be focusing on critical medical,
water and sanitation assistance.
• Islamic Relief:
Islamic Relief USA has launched a $1 million appeal for the victims of
the quake, and is coordinating a massive shipment of much-needed aid to
the island nation.
• Lutheran World Relief:
Lutheran World Relief is accepting donations to provide life-saving
assistance in response to the earthquake in Haiti. Details of the
emergency response will made available as the organization learns more
about the immediate needs on the ground.
• Medical Teams International:
Medical Teams will be on the ground in Haiti, treating the most needy
patients for injuries and illnesses such as pneumonia. Your gift of $33
provides the medicines and supplies for an entire family during the
critical days immediately following a major disaster. A gift of $66
funds one doctor's clinical work for one day in Haiti. Your gift of
$2,000 funds one doctor's clinical work for an entire month.
• Operation USA:
Operation USA is appealing for donations of funds from the public and
corporate donations in bulk of health care materials, water
purification supplies and food supplements which it will ship to the
region from its base in the Port of Los Angeles.
• Operation Blessing:
Operation Blessing's Haiti National Director, Eric Lotz, is
on-the-ground making first responder assessments and disaster relief
teams are mobilizing to bring emergency relief to victims.
• Oxfam:
Oxfam has long experience in Haiti, and we're rushing in teams from
around the region to respond to the situation where our assistance is
most needed.
• PIH: Has had longstanding aid relationship with Haiti
• Salvation Army:
The Salvation Army is currently mobilizing personnel and supplies to
assist in the relief effort in Haiti, following the severe earthquake
that struck Tuesday. The Salvation Army has already dedicated $50,000
in direct aid to the country, and it is in need of additional donations.
• Samaritan's Purse:
Samaritan's Purse is responding to the earthquake that devastated Haiti
by providing critically needed assistance, including water, temporary
shelter, blankets, hygiene kits, medical aid, and other essentials.
• Save the Children:
Donations to Save the Children will help the charity provide urgently
needed medical attention, safe drinking water, and other necessities.
• Search Dog Foundation:
Strengthen disaster response by recruiting rescued dogs and partnering
them with firefighters and other first responders to find people buried
alive in the wreckage of disasters.
• Stop Hunger Now:
Stop Hunger Now will be coordinating relief efforts to our partners in
Haiti by organizing shipments of meals and financial support.
• UNICEF USA: Donations to UNICEF will go to children, the most vulnerable population in any natural disaster.
• United Way Worldwide:
Gifts to the Fund support long-term recovery efforts to rebuild lives
and infrastructure devastated by disaster and to address educational,
financial and health-related challenges.
• World Concern: Donate to Haiti relief efforts.
• World Food Programme:
WFP is mobilising all available resources to bring urgently needed food
assistance to thousands of people affected by the devastating
earthquake which hit the Caribbean island of Haiti.
• World Vision:Your
gift now will help distribute relief supplies — including food, clean
water, blankets, and tents to children and families impacted by the
earthquake and aftershocks in Haiti.