07/07/09
Cancun News: The Week in Review/ Updated July 13, 2009
A-H1N1 (Swine Flu) Update:

As per published reports and the health ministry in the Mexican State of Quintana Roo, the swine flu is still alive and well in the region with recent test results indicating that there's 195 confirmed cases of A-H1N1 in Cancun's home State. Officials report that as of July 6,2009 that only 14 of the cases have been serious enough for extended hospitalization with no fatalities reported as swine flu related. There are also 263 suspected cases pending test results currently. Quintana Roo's sister State, the Mexican State of the Yucatan, has experienced a serious outbreak of late and authorities there are on high alert for new cases.

Missing at the Moon Palace Update 07/13/09:

Julia Howard's Family returned home to Mexico amid complaints from furious family members that that Mexican officials accused the family of complicity in her disappearance. More from the

Scottish Sun

at…http://www.thesun.co.uk/scotsol/homepage/news/2531040/Missing-gran-family-accused.html

Still Missing in Cancun, Scotland's Julia Howard I:

The Scottish grandmother has now been missing for 3 weeks from the Moon Palace Resort where she was vacationing with family, in Cancun, despite a widespread search to locate her by family and local authorities. Just this past weekend the Moon Palace was the site of a much publicized worldwide swine flu conference featuring notable dignitaries such as President Calderon who at last report, didn't go missing. More on this story at http://dangers.cancuncasa.com/?cat=10

Search Suspended at Moon Palace Cancun Resort for Julia Howard II:

Periodistas Quintana Roo

is reporting today that the search for missing UK grandmother Julia Howard was called off on Sunday, July 5th at noon based on reports from the local police in Playa Del Carmen that were involved with the search. The investigation however continues based on local reports but it appears the formal search at the Moon Palace Resort has ended as of Sunday without any clues to the mysterious disappearance of the Scottish woman. http://periodistasquintanaroo.com/site/index.php?option=com_content&task=view&id=10063&Itemid=2 / http://www.yucatan.com.mx/noticia.asp?cx=11$4103080000$4109633&f=20090707

Beach Restoration Update:

The authorities in Cancun and Quintana Roo including the mayor and governor are stating that the beach restoration will be started this year pending the environmental impact statement approval on July 15, 2009. Speculation looms large as the project is slated for start-up and intensive work processes right through the tropical storm season, commonly called hurricane season which runs from June through October. From this vantage to many delays have occurred to risk starting the project until next November 2009 but first let's see if the project clears its environmental permitting, and actually starts in July before getting concerned.
Miss Spain 2009 to be Crowned in Cancun:

The promoters of the Miss Spain Beauty Pageant have announced that finalists will be brought to Cancun, Mexico to vie for the honor of Miss Spain and the rights to compete for the other worldly Miss Universe title in the Bahamas later in the year. The contestants will be staying at the Grand Oasis Resort in Cancun for the preliminary events to be held on July 17th and the winner will be crowned at the Cancun Center on July 18th. Let's hope for the promoters sake the contestants don't read the animal house style reviews of the Grand Oasis and her on site sister resort, the Oasis Cancun. While we hate to burst the promoters bubble on both sides of the Atlantic Ocean, the real reason the Miss Spain pageant is in Cancun is because the pageant has basically gone bust in the Spanish homeland and the economic realities of the operators is that they needed someone, anyone, to fill the sponsorship side of the beauty contest. Cancun Tourism officials and the Spanish based

Globalia

, the management group responsible for the Oasis Resorts, were willing to scoop up the contest as promotional filler in an attempt to boost what has been a decidedly down year for tourism in the region which one could hardly blame either side for.

Elections, "Ley Seca" to you too:

In rather cavalier election procedure, that featured low voter turnout in most parts of Mexico this past Sunday, the presiding election official at the Playa Del Carmen voting area in a local school decided that the boredom was too much, and started drinking to the point of inebriation based on citizen complaints. In Mexico, alcohol sales are banned on election day in most locations, the common name for the law being, "ley seca" or "dry law" which apparently didn't stop the local election official from getting all wet.
Hotel Occupancy:

Cancun Hoteliers are still facing the harsh reality of worldwide perception based on swine flu and drug cartel violence reports, mainly in other parts of Mexico, despite the resort city being isolated by more than a 1000 miles in geography from the hotbeds of the media reports. Occupancy numbers in Cancun started the month of July at a pedestrian rate of 62%, about an 18% decline from the previous July 1, 2008. The good news is that the National Tourism season is getting underway and Hotel deals abound for prospective visitors.

Cancun Airport Passenger Traffic Down:

ASUR

, the private company that operates and manages an array of airports and facilities in Mexico, including Cancun, reported that passenger traffic at the Cancun Airport was down 16.2% for domestic passengers and down 37.9% for international passengers for the month of June compared with the same period in 2008.

Profepa Closes Hotel:

The Mexican Federal Environmental Agency, "PROFEPA", isn't in a joking mode any longer, shutting down yet another resort, Dorado Maroma in the Riviera Maya, for environmental violations related to the destruction of the natural mangroves protecting the shoreline. Officials from PROFEPA indicated that they will no longer be politely asking hotel operators in violation of the environmental laws to close down, they will seek police action supported by Federal Troops if necessary.

President Calderon Opens Hotel:

Mexican Prez Calderon, in town for the Swine Flu Extravaganza at the Moon Palace, found his way south of Cancun, to the grand opening ceremony of the New

Gran Velas Resort

in the Riviera Maya. http://www.grandvelas.com/ The Mexican President presided over the opening including the ribbon cutting dedication and a plaque ceremony. The new resort is stated to have cost 250 million U.S. dollars to build.

The Real World Cancun:

The MTV Cancun based series, at the ME (Melia) Resort in Cancun, has the world a

Twitter

http://twitter.com/realworldcancun in its reality TV offering thus far featuring the so called Real Cancun, Girls Gone Wild and Jackass I &II all combined into one, you'll have to excuse us if we tell you, we're underwhelmed.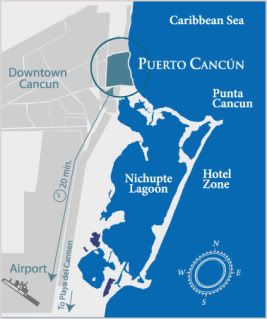 06/20/09
One of the great things about blogging Cancun and the Mexican Caribbean is that it's rarely boring as for whatever reason, there always seems to be something on the horizon, something in the rear view window or something happening as we prepare to write. As such this week's no different, Cancun, consistently on the rebound these days has taken Hurricanes, Swine Flu, Drug Wars and World Recession all in stride, while maintaining, and once again establishing itself, as a premier world class travel destination. In this blog we'll try and bring you the news you may have missed, updates on news you may have read and perhaps, some news you'll find of interest along the way, so sit back, relax a little, open a cold cerveza and listen to some music while catching up on Cancun and the Mexican Caribbean.
Beach Restoration Project:

The Cancun Hotel Association is getting nervous, especially in light of continued public reports from SEMARNAT (Ministry of Environment and Natural Resources) representatives that have stated to the effect, first that no contractor was willing to bid the Beach Restoration Project (they were and have), secondly that the beach restoration project could be delayed due to the quickly approaching hurricane season (that one is still a ball in the air), and lastly the project's environmental permits are still pending (approvals expected by July 15,2009). The Cancun Hotel Association wants all information regarding public statements regarding beach restoration to come via the Ministry of Tourism to obvious allay further concerns and to control potential adverse publicity should the project actually be delayed. On the other hand the Cancun Hotel Association amongst other tourist zone entrepreneurs is highly political and public in waging a campaign against increased property taxes in the hotel zone to help pay for the project. Increased taxes desperately needed by the local governing body to finance the Cancun area share of the beach restoration.

Beach Restoration Related:

A SEMARNAT representative has also publicly stated that all geotubes and man made breakwaters should be removed from the Cancun shoreline prior to project start up.

Swine Flu (A-H1N1) Update:

As of June 20, 2009, there is 84 confirmed cases of swine flu that have occurred in Quintana Roo, Cancun's home state, most of them mild with no fatalities. Currently there is a very strong monitoring of developing cases in Yucatan, particularly in the city of Merida, Quintana Roo's northern neighboring State.

Missing Scottish Tourist:

Reports continue to indicate that a Scottish Tourist visiting Cancun staying at the Moon Palace is missing from the resort after leaving family members while retrieving a hat from her room this past Monday. The woman, a grandmother from Edinburgh, Scotland, age 77, named Julia Howard , was visiting Cancun with her family and had been to the resort previously in the past. The family is obviously very concerned and Cancun police are investigating along with Moon Palace Security personnel. http://video.stv.tv/?bcpid=1610699553&bctid=27124761001 / http://www.poresto.net/quintana-roo/41418-anciana-perdida-toda-una-semana

Pok-Ta-Pok Golf Course Under Siege:

The Robert Trent Jones, Jr. designed Golf Course at Pok-Ta-Pok just off the lagoon side of the hotel zone at kilometer 7.5 is apparently under siege by developers, considered to be local insiders, for future development into high rise condominiums. The local citizens of the area are not impressed and are seeking a halt to any attempt for future development that would reconsider the land use for anything other than a golf course, it's original intended use. The speculation has raged from a political insiders deal to downright accusations by the locals living near the area ever since the sale of the property by the infamous Michael Kelly to local investors for $5.4 million dollars. The citizens neighboring the property have organized protests, claimed the new owners have threatened to halt maintenance of the property including mosquito control and are in violation a decades old agreement with FONATUR, the government agency involved with tourist development, to maintain the property as a golf course.
Courtesy of Por Esto

Speaking of Michael Kelly:

Former legendary Cancun Hotel Developer, business owner, fledgling automaker Michael Kelly remains imprisoned in a Federal Penitentiary in Chicago, Illinois on charges of a massive real estate investment scam that may have bilked unsuspecting investors, many elderly, retired Americans, out of upwards of $500 Million Dollars. Kelly is awaiting trial, charged with 14 counts of fraud by the U.S. Government with monetary restitution mandatory for repayment to creditors making claims. Kelly has pleaded not guilty while his attorneys, various, have attempted to negotiate a plea agreement satisfactory to the courts. Kelly was and is involved with the Avalon Resorts, failed automaker Avanti, numerous local Cancun businesses including the City Nightclub and recently sold the rights to the Pok-Ta-Pok Golf Club to local investors.

Hotel Occupancy:

As of June 18, 2009, hotel occupancy continues to rise, hovering now at 63.6% as Cancun recovers from the swine flu scare and benefits from the national tourist season along with widespread advertising both nationally and internationally. In addition many Hotels and Airlines have reduced rates significantly and tourists are taking advantage of widespread specials on hotels and airfare.

Lydia Cacho Speech on Freedom of Expression and Human Rights:

From one of my favorite writers and journalists, a must read version of her recent speech at her blog page http://www.lydiacacho.net/10-06-2009/freedom-of-expression-a-right-for-all/. Lydia Cacho has been at the forefront of freedoms and human rights in Mexico for years, risking her own life in the pursuit of it and is one of Cancun's most important international citizens due to her body of work and activism, I highly recommend those folks looking for the larger picture and beyond just the facade of Mexico Tourism to read her speech as it applies both Nationally in Mexico and Internationally around the world.

Maya Island Air, taking off, Ex Pat Alert:

A new Belize to Cancun RT flight is in the offing from the folks at Maya Air based in Belize, Mexico's southern Caribbean neighbor. Maya Air is reported to be Belize's oldest commercial airline and will be starting flights daily on July 8, 2009 based on reports. http://www.reporter.bz/article/General/3559/
Upcoming Events:
Top Model Competition
from June 19th through the 26th at Real Resorts…more information at
http://www.topmodelinternational.com/2009/activities/index.asp
Chacah Garden Anniversary at Xel Ha
: July 11th, 2009
http://cancun.travel/events/?event=248
And, thanks to our friends at Cancun.Travel, we bring you this video and testimonial of a recent visitor to Cancun…Art, we'll make you famous.
06/16/09

Been away, haven't seen you in a while…How've you been…
In truth this blog's writer has been on a bit of hiatus for a week or so due to some of life's trials and tribulations, regular followers of the blog will note the loss of a dear friend of ours, Carney, in the blog below this, while we've been dealing with some other serious issues as well. As the old adage states, when it rains, it pours, and life's been dealing us quite a soaking lately. However, it has occurred to us via the thoughts of the more intelligent of the sexes, my wife, that we live to write and write to live here, and I had better get back to writing before I start waxing poetically about country songs, old hunting dogs and pick-up trucks. Though, I might send you a sawbuck if you picked up on the song and verse in the blog title.
Well, what about Cancun you say, you came here to read about Cancun, Mexico or some such thing, to ease your mind, dream of Caribbean Beaches and mist about breezy palm trees while drowning in Pina Coladas in the sun drenched land of the Maya, amongst the ancient pyramids of the gods, with pterodactyls aloft overhead, before partying with the moon to the techno buzz of Cancun nights. Well, hell, we've got that too, why didn't you say so… ;-)
Cancun, the Week in Review:
Beach Restoration Project

- In Cancun, the local government announced this week that they have awarded the beach restoration project(s) (it also includes beaches on Isla Cozumel and along Playa Del Carmen's coast) contract to a Mexican based subsidiary of Belgian Company Jan De Nul,

Mexicana de Dragados s.a.

The project is expected to start on July 15, 2009 providing that it's environmental impact study is approved and anticipated completion is slated for December 16, 2009. The project will attempt to restore Cancun's beaches in the area between Punta Nizuc to the Punta Cancun area, and includes a 10 year maintenance program. Some folks may remember that it was the company Jan De Nul that provided the short lived restoration of beaches subsequent to Hurricane Wilma in 2006 before yet another tropical storm season unleashed a series of storms that eroded the 2006 beach replenishment project into history. This time, unlike the last replenishment project when local authorities refused to heed contractor Jan De Nul's advice regarding maintenance, there's a ten year beach maintenance plan in place to continually manage beach restoration over the next decade.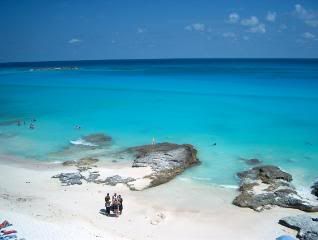 Hotel Occupancy-

The much watched and anticipated hotel occupancy numbers in Cancun are on the rise in a positive sense, typically inching upward towards respectability for the hotel sector in Cancun and all of Quintana Roo after a devastating sequence events, primarily caused by the worldwide swine flu scare A(H1N1) and continued fallout from publicity over violence stemming from both warring drug cartels and the Mexican Government war on same. The occupancy numbers in Cancun are near 55% for mid June rebounding from a disastrous May period that saw occupancy drop to 20% and force the closure and consolidation of a handful of hotels. While 55% isn't anything to cheer about (numbers for the same period last year were 81%), most major hotels can at least balance the books when numbers are in the 50-60% range which encourages employment and the return to work of thousands of laid off employees.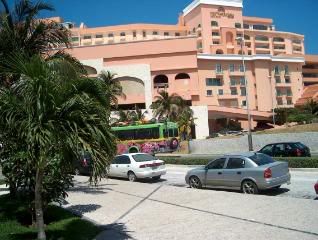 Swine Flu -

To date there has been 71 confirmed cases of swine flu A(H1N1) in Quintana Roo, Cancun's home state in Mexico with zero fatalities. Worldwide there's been at least 35,938 cases confirmed with 163 fatalities in 76 countries. The World Health Organization raised their health warning level to "6″ over the past week indicating the flu had met all requirements for a worldwide pandemic in its spread. The good news thus far is that for most people who will come down with swine flu related illness, the strain is relatively mild in most healthy people and poses only a minor threat at this current evolution of the strain, hopefully, it will continue to remain that way. The WHO has not issued any requests for bans on international travel. The United States leads the world in confirmed cases with at least 17,855 people confirmed to have been infected with swine flu. For the record, the swine flu is reported to be on the down swing in Mexico currently, Mexico reporting a total of 6,241 cases to date since the April outbreak.
Cancun on Sale -

For those looking to book a Cancun Vacation these days, prices are typically exceptionally good as is airfare due to low occupancy rates in the region. Most major resorts are offering deeply discounted rates in an attempt to bring tourists back to the beach mecca and those savings are being passed along to major retailers and travel agencies. Visitors will also find many local tour operators offering discounted rates for opportunities to visit places like Chichen Itza, Xcaret, Isla Mujeres and Tulum. If your looking for the big bang beach vacation that's easy on the wallet, there may not be a better time to book.
(Courtesy of Cancun.travel)
We'll leave you with one of our favorites in the Island Collection, a YouTube video by rodopchanka featuring the music of Enya doing "Caribbean Blue". This is one of those laid back beautiful songs that echoes the Caribbean video footage attached, enjoy.
05/24/09
The pendulum has swung back in favor of this tourist destination as thousands of tourists are returning to Cancun and the Riviera Maya, Mexico's premier tourist destination after massive cancellations, flight stoppages and cruise industry restrictions due to the swine flu scare. Hotel industry reports indicate that occupancy numbers in Cancun have pushed up to 37.2% as of May 21, 2009 after settling near 20% on May 10. While 37% is nothing to celebrate about, what it does indicate is that Cancun has started to break free from the negative perception casting a cloud over the city since the international swine flu breakout. The hotels in the city proper, not in the famed hotel zone, are reporting numbers near 50% of occupancy while upper end all inclusive resorts in the hotel zone are at 43%. In the halcyon days prior to the stigmatized effects of negative media, international government and private business attention the numbers would more properly show occupancy in the 70-80% ranges for this period in previous years.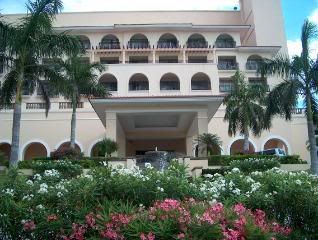 As it is, in an effort to recapture the world's attention as a safe, secure and first class travel destination, Cancun has gone "on sale" via a wide ranging mass media campaign undertaken by the Mexican Government and businesses operating within Cancun itself. Most of the major hotels are offering steeply discounted rates across the board while airline fares have been reduced in many cases to coincide with a "swine flu" guarantee. A hotel based guarantee among many top line resorts that offers a series of free future vacations and/ or refunded vacations should a guest be confirmed with swine flu after visiting the Cancun resort of their choice.
The report from the Cancun Hotel Association indicate that bookings are starting to surge and new cancellations are few and far between for the up and coming months of June and July while flights to and from Cancun are on the increase from the main origination destinations of Cancun tourism, the U.S., Canada, UK and Western Europe, particularly Spain.
Further reports indicate that most "consolidated" resorts are planning on reopening in early June if not sooner.
Internally within the city and State of Quintana Roo local school schedules have been restructured so that students will have limited to no extensions of the school year thus avoiding a negative impact on the national vacation season during the summer months.
In short, the gringos are returning to Cancun and the Riviera Maya in numbers strong enough to portend a break in the negative perception that exploited the resort areas due to the fears of swine flu along with the drug violence on the U.S. and Mexico borders some 1400 miles away from Cancun.
We would be remiss if we didn't note that all major tourist operations and public services are fully operational in Cancun and awaiting visitors, to date there's been 27 cases of swine flu confirmed in the entire State of Quintana Roo (less than many States in the U.S.) and that there are currently no international travel restrictions posted by countries that provide the bulk of visitors to Cancun, Mexico.
In this corner, we would suggest if you have the wherewithal to visit Cancun, taking advantage of the change in attitudes by taking advantage in a change of latitude, there isn't a better time to do so, the weather is great, the Caribbean as always beautiful and vacation prices the best they've been in years.
Dangers…