06/30/09
In a brief update to the Julia Howard story, Por Esto, a local newspaper in Cancun, is reporting today that a decision this week will be made whether to continue the search on the Moon Palace Resort grounds in Cancun. The newspaper is also reporting that local authorities have also brought in two "jungle search" specialists to assist in the wide spread search for Julia Howard in the surrounding tropical forest area of the hotel. The Deputy of State, of the Mexican State of Quintana Roo, has stated that the search is still underway led by the State Judicial Police force assisted by local area teams and specialists.
Regarding a press release from the Moon Palace Resort and their ownership, Palace Resorts, late last week, that Howard was last seen in Valladolid, Yucatan, not far from Chichen Itza, the Q.R. Attorney General would only say that the possibility only forms part of the research without giving further specifics.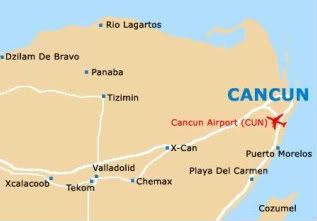 Rather obviously the massive search on the grounds of the Moon Palace Resort would not be continuing if the sightings in Valladolid were considered highly credible. Police authorities in Valladolid have claimed they have no reports of one, let alone multiple sightings of Howard in Valladolid, however, authorities in Cancun are believed to have one person, at least, who believes they may have seen Howard in Valladolid based on past reports but authorities in Cancun have stated that any report of Julia Howard being seen in Valladolid is pure speculation.
Someone, purporting to be a representative of Palace Resorts in Cancun, has posted multiple copies of a new statement to the highly popular Internet travel site "Trip Advisor" message board system claiming that Palace Resorts has been, and will continue to work with local authorities and the family of Julia Howard in an continuing effort to find the 77 year old, grandmother, missing in Cancun, from the Moon Palace, since June 16, 2009.
Por Esto also reports that police from Playa Del Carmen, Mexican Red Cross personnel and Civil protection search teams are also involved with the search.
More as it becomes available…
http://www.poresto.net/quintana-roo/42517-incesante-busqueda-de-julia-howard
http://cancun-hotels.tripadvisor.com/ShowTopic-g150807-i8-k2909873-Julia_Howard-Cancun_Yucatan_Peninsula.html
http://cancun-hotels.tripadvisor.com/ShowTopic-g150807-i8-k2893410-o140-Missing_Edinburgh_Woman-Cancun_Yucatan_Peninsula.html
http://www.thisisderbyshire.co.uk/news/Family-s-hunt-aunt-missing-Mexico/article-1123174-detail/article.html
http://www.jornada.unam.mx/2009/06/30/index.php?section=estados&article=034n1est
http://www.elporvenir.com.mx/notas.asp?nota_id=320226
http://www.thisisderbyshire.co.uk/news/Family-distraught-aunt-vanishes-Mexico/article-1124965-detail/article.html
New Links: 07/03/09
http://www.dailyrecord.co.uk/news/scottish-news/2009/07/03/scots-gran-goes-missing-on-holiday-to-mexico-86908-21491006/
http://z10.invisionfree.com/usedtobedoe/index.php?showtopic=46060&view=getnewpost
http://3scancun.com/blog/?p=1741
http://content.usatoday.com/topics/article/Places,+Geography/Towns,+Cities,+Counties/Cancun/086b0301dadya/1
06/28/09
In a follow-up story today on the Julia Howard disappearance, a local newspaper in Cancun, Mexico, Por Esto, is reporting that the press release issued by Palace Resorts late Friday night claiming that Julia Howard has been seen by multiple residents in the Yucatan mainland city of Valladolid is "pure speculation" according to police authorities in Cancun and Quintana Roo. Por Esto, yesterday, also reported that a check with police officials in Valladolid indicated that no eyewitness reports have been reported to the Valladolid authorities regarding Julia Howard being seen there by local citizens.
Julia Howard has been missing from the Moon Palace Resort in Cancun, Mexico since Tuesday, June 16, 2009 after arriving the evening before with family members on vacation. Ms. Howard was visiting the resort for the fifth time and had a strong familiarity with the layout of the resort and grounds.
As of this date, the police in Cancun and Quintana Roo have indicated that despite a massive search of the sprawling Moon Palace Resort grounds to date, no evidence to the location of Julia Howard has been discovered.
Authorities in Quintana Roo have utilized upwards of 100 members of an array of available police resources for the search including search dog teams, mounted police on horseback, marine police and investigative teams for multiple days. The search continues on the ground by authorities and Moon Palace representatives are cooperating. Search Teams have been hampered in their efforts this weekend by some severe weather patterns that have moved through the area.
More on this story as it develops…
http://www.poresto.net/quintana-roo/42210-pura-especulacion-sobre-julia-howard
06/27/09
(Editor's note, the blog below this has important weather alert information for those in or traveling to the Yucatan Peninsula)

In a rather bizarre twist to the case of missing Scottish grandmother, Julia Howard, Novedades Newspaper in Quintana Roo is reporting that they have a report, a press release, from representatives of Palace Resorts in Cancun, that Julia Howard has been seen alive in Valladolid, a small city in the southeastern Yucatan, not far from the Maya City ruins of Chichen Itza, about two hours west from Cancun and the Moon Palace resort where she was last seen.
Novedades further reports, based on their source, the press release from Palace Resorts, that residents of Valladolid have claimed to have seen Howard, missing from the Moon Palace resort in Cancun since June 16, 2009. The report claims residents have recognized Howard from published photographs in the media.
The press release from the Palace Resort hotel chain indicated that the
authorities investigating the case did not rule out that the tourist
who apparently suffers from mental problems, has left the resort of her own volition as per Novedades. Local Newspaper Por Esto has confirmed the story and the source as Palace Resorts, adding that Palace Resort representatives have also stated that they have continually searched for Ms. Howard since she was first reported missing on June 16, 2009. Ms. Howard's granddaughter, Gill Greaves, has stated previously in interviews, that her grandmother does not suffer from dementia, contradicting the Palace Resorts report to some extent.
Por Esto has also reported that the police officials in Valladolid, while aware of Ms. Howard's disappearance, have no reports of Julia Howard being sighted in their jurisdiction.
As of this time, we (the blog) have been able to confirm the Novedades story via a report in today's Por Esto. Both news sources confirming that Palace Resorts is the source of this report and not local authorities involved in the investigation into the disappearance. We would remind our readers that Julia Howard has not yet been found to our knowledge and the Palace Resorts report/statement is the source of both news reports. At this time, we would urge caution to our readers in putting a strong reliance into the Palace Resorts statement until further confirmed by the responsible government officials. The writers at Por Esto have called the Palace Resort report "intriguing conjecture" and the writers at Novedades have utilized the words, "Hypothesis and Clues" describing the same report issued by the Palace Resort Hotel chain.
The links to both the Novedades and Por Esto stories can be found below;
http://www.poresto.net/quintana-roo/42066-la-senora-howard-en-valladolid

http://www.sipse.com/noticias/4555-pistas-sobre-turista-britanica-desaparecida.html
06/25/09
As of this morning, the local reports from Cancun, Mexico are indicating that the State Police of the Mexican State of Quintana Roo are now heavily involved with the investigation into the disappearance of Scottish woman, Julia Howard, last Monday at the 5-Star Resort, the Moon Palace, she was staying at with family. State Police are said to have searched the Moon Palace Hotel, Pool Areas, accompanying buildings and grounds while further, more extensive searches continue for the missing grandmother of eight. Yesterday reports indicated that marine police, mounted police and search dog teams have been brought in, in an effort to locate Ms. Howard or discover information that will lead to her recovery.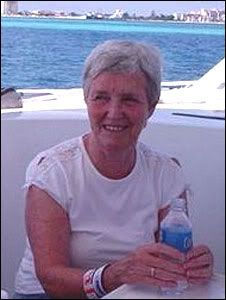 (Julia Howard-Missing in Cancun; Courtesy of the BBC)
Local Newspaper, Diario de Quintana Roo reported today that the Quintana Roo State Police Chief, Luis Felipe Ortiz Seca stated his office finds the case at one time very simple, as to the turn of events leading up to the disappearance, while the finding of the disappearance itself, very strange, based on the known information. At it's base the case revolves around the known information that Julia Howard was at the pool area of the Moon Palace Resort Monday morning with her family and indicated that she wanted to return to her room to retrieve a "sun hat", Ms. Howard's room was some 100 meters away, as per the police chief. Ms. Howard left for her room and hasn't been seen since by her obviously distressed family. The 77 year old grandmother from Edinburgh was reported to be in good health by her family and had visited the resort in the past, having a strong familiarity with the Moon Palace grounds.
Luis Felipe Ortiz Seca further indicated that the search and investigation is ongoing and that the State Police are interviewing both guests and employees of the resort for potential information in assisting with finding Julia Howard.

(Mounted Police Search Moon Palace, Cancun;Courtesy of Diario Respuesta)
We would also note that police forces from Benito Juarez and locally from Cancun are actively taking part in the search and investigation as has been reported in past blogs and news links.
More as it becomes available…
http://news.bbc.co.uk/2/hi/uk_news/scotland/edinburgh_and_east/8119021.stm
http://www.dqr.com.mx/index.php/Benito-Juarez/Nota-RojaBJ/Sin-pistas-de-escocesa.html
http://www.diariorespuesta.com.mx/online2/index.php?option=com_content&view=article&id=2488:solidaridad-busca-a-turista-escocesa&catid=95:policiaco&Itemid=275
Also, we would like to pass along additional links, thanks to Robert from Coz on Trip Advisor Cancun for picking up on the story there; http://cancun-hotels.tripadvisor.com/ShowTopic-g150807-i8-k2893410-Missing_Edinburgh_Woman-Cancun_Yucatan_Peninsula.html
And, our amiga, and Cancun blogger extraordinaire, CancunCanuck at; http://www.cancuncanuck.com/
Other Internet based sources are also now picking up the story and providing additional exposure;
http://www.calluma.com/news_feed_article.aspx?ArticleID=1457&categoryID=61
http://deadlinescotland.wordpress.com/2009/06/19/
http://www.noticaribe.com.mx/cancun/2009/06/no_hallan_a_turista_desaparecida.html
http://caribeinversion.blogspot.com/