05/13/09
Another day, another dollar lost, or peso, as one might have it, as the continuing struggle of Cancun and her sister resort areas sit idle under the cloud of perception. These typically are the good days for Cancun, a busy time where the locals catch their breathe between the madness of Spring Break and the high summer national tourist seasons. Yet, due to the swine flu fantasia, the city by the sea rests, her people dazed by the sudden, unexpectedness of it all, a proud prize fighter, dropped cold at ring center, never seeing the blow that hit him, our Ricky Hatton fans will know exactly what I'm talking about.
The good people are gone, the tourists, whom are good for a variety of reasons, not the least of which is the tourism industry's economic engine and lifeblood of Cancun, the reason for her very existence. Some of them are swine flu scared, others are stranded at home if such a thing exists while others bob and weave their way through a variety of public and private roadblocks in a vain attempt to visit Cancun. The few that arrive are welcomed with open arms, treated as royalty in a foreign land and typically report back that their vacations while quiet were wonderful, filled with beautiful beaches, weather and future memories.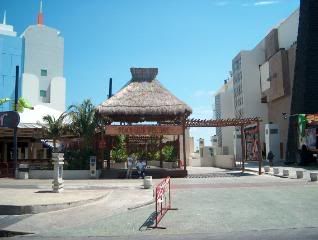 Where have all the good people gone?
And, today, Cancun took another blow, one that her citizens, especially the hotels and tourist based businesses hope to have rescinded if possible, an extension of the school year for Cancun's children. It seems these small circumstances of everyday life keep creeping into the equation, and why, you say is an extension of the Mexican school year an issue?
Quite simply, an extension of the Mexican school year means a shortening of the national vacation season in Mexico. Children all over Mexico have missed classes due to the swine flu scare and Mexican education authorities similar to their brethren all over the world want to make sure that the required time is in place for the completion of the school year. The school year extension looks to add between 2-3 weeks of classroom hours for Mexico's children and in doing so, will eliminate a 2-3 weeks of national tourism in Cancun. If there had been one main hope, benchmark, that the locals had been looking for to help pull Cancun's tourism industry out of the doldrums, it was going to be her fellow country men and women, along with their children, vacationing in Cancun.
Where have all the good people gone?
The cruise industry has canceled almost all ports of call in Mexico until mid June. The large western European tour operators continue to extend flight cancellations into late May. Multiple governments around the world continue to post non essential travel bans to Mexico despite the fact that swine flu is now found on over 3/4's of the planet and may not have originated in Mexico, and the U.S has more cases of confirmed swine flu than Mexico. (Cancun has two (2), that's right, 2 confirmed cases of swine flu, 11 total confirmed in the entire Mexican State of Quintana Roo.)
Where have all the good people gone?
If you've had any doubts or questions, Cancun, Mexico and the entire State of Quintana Roo is open sans the handful of hotel consolidations and businesses waiting for tourists to arrive. All major tourist attractions are open, most restaurants, nightclubs and retail areas are open.
But where are the tourists…
Where have all the good people gone.
Before we go, I'd like to introduce you to two of the good people in Cancun, both writing Cancun as they see it and keeping it real; CancunCanuck, http://www.cancuncanuck.com/ one of the finest bloggers around, Cancun or anywhere else, and one of the 2008 Best Bloggers of the Year, well deserved I might add, along with another veteran Cancunense, JiminCancun, http://www.jimincancun.com/blog/ who has long been keeping it real regarding the Cancun scene on numerous Cancun based message boards who has added his perspective to all things Cancun, and as a veteran world traveler, in a terrific new blog. If you haven't read them before, give them a look, you won't be disappointed.
Today, we leave you with poet, balladeer and surfer Jack Johnson performing in a beautiful tropical video put together by the appropriately named kenparty over on Youtube.
For your listening and viewing pleasure…Jack Johnson doing "Gone, Going".


Dangers…