10/18/09
The long awaited Cancun, Mexico beach restoration project is underway, during the last few weeks private contractors, Dutch Company Jan de Nul and their subsidiary Mexico based Dragados have been doing preparatory work for the restoration of approximately 11.1 kilometers of beach area in Cancun's southern hotel zone, the primary area of Cancun beach restoration.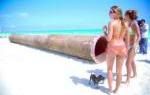 (Courtesy of Sipse/Novedades)
Large amounts of piping and machinery have been coming to Cancun every week along with barges and associated heavy equipment to be used in the project. Reports from the local media in Cancun indicate that piping to be used for sand replenishment is being assembled at various beaches with the beach area near the Bay View Grand Condominium complex established as one of the main staging areas. Additional reports indicate that piping is already in place at the area of the Le Blanc Resort beach with other areas soon to follow.
A specialized dredging vessel and sand mining equipment is expected to arrive between October 18 and October 20 to begin the actual underwater sand mining and sand filling along the beaches in Cancun in short order.
Officially, it is expected, Mexican dignitaries, including high ranking Mexican officials of government will formally announce, in Cancun, the recovery of beaches in Quintana Roo, is underway later this week.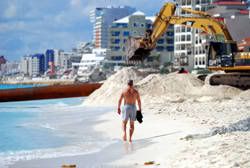 (Courtesy of Por Esto)
The beach restoration project overall includes an area of beach recovery in Cancun from Punta Cancun to Punta Nizuc, approximately, the area just south of Dreams Cancun Resort at Punta Cancun, running 11.1 kilometers south to Club Med's Cancun based resort at Punta Nizuc. The project also includes beach areas in the Playacar area of Playa Del Carmen and specific beaches on Isla Cozumel.
We would caution from this end that the project has been rife with delays and weather can certainly be a determining factor in the progression of work. However, the project is now set to begin it's primary stages of restoration and work may move rapidly once underway. Also, the recovery project does not include beach areas North of Punta Cancun or the already restored popular beach at Playa Norte on Isla Mujeres.
For those looking for more in depth information, one of our previous blogs may assist in providing more detailed perspective;
Cancun : Where's the Beach? Restoration Project Dates and Timeline
The information in this issue of the Cancun Casa Blog was provided via multiple media and government based sources. Recent sources of information can be found at;
Novedades: http://www.sipse.com/noticias/16044-rescate-playas-unos-dias.html
Por Esto: http://www.poresto.net/cgi-bin/news.cgi?f=12351
Choose to chance the rapids and dare to dance the tides. - Garth Brooks, The River