10/21/09
Filed under:
Cancun Casa Blog
,
Cancun Tourism
Posted by:
Dangers
@ 5:30 am
*Mercado 28, Victims Released, Ransom Paid, Captors Remain Free
*

Updated: 10/21/09
Reports out of Cancun indicate that all five men have been released by the kidnappers as of Tuesday, October 20, 2009 and are refusing to cooperate with authorities out of fear of reprisals from their former captors. Further reports indicate that one of the victims , a shop owner at Mercado 28, paid a ransom of 100,000 Pesos and 3-vehicles for his release but claims to be incapable of identifying the kidnappers…more as or if it becomes available.

(Courtesy of Diario de Quintana Roo)
*October 16, 2009*
In a continuing sign of the times, in Cancun, Mexico and the world, a troubling incident occurred at the popular Downtown, Cancun tourist market Mercado 28 in Cancun City, where five people were abducted at gunpoint Thursday night, October 15, 2009, at around 7:00 PM, when assailants arriving in two vehicles quickly abducted the "Opal" jewelry store owner and his assistant, along with another shop owner and aide along with a taxi driver from Isla Mujeres. The surreal crime scene unfolded when the kidnappers jumped from at least two vehicles and accosted the victims at their shops at Mercado 28 while they were playing a leisurely board game early in the evening. Reports from the local press indicated that the abductors ordered nearby foreign tourists and locals in the area of the shops to lay down at gun point while they proceeded with the crime before speeding off into the night with their victims. No injuries were reported at this time by the foreign tourists or locals whom witnessed the unfortunate event.
(Courtesy of Cancun.travel)
Local authorities arrived quickly on the scene and took reports from witnesses and family members while beginning a search for the victims. It's also reported that the shop owners within the popular market gathered later for an impromptu meeting where they agreed to provide any details and assistance to authorities that they could. Early speculation by local police officials indicates a theory of either kidnapping for profit or potentially yet another in the recent surge of crime related to drug trafficking and illegal smuggling of Cubans into the region. News reports over the past year have also indicated a continuing increase in local shop owner shakedowns occurring in Cancun by organized crime. The shakedowns similar to protection rackets ran by US crime organizations in the not so distant past.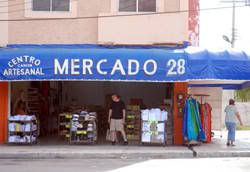 (Courtesy of Por Esto)
A recent follow up on this story indicates that it is believed by authorities the taxi driver from Isla Mujeres was likely an inadvertent victim having just dropped off foreign tourists as part of the taxi service to the market area, being in the wrong place at the wrong time. The story updates courtesy of both
Novedades
and
Por Esto
in Cancun also state that the family of one of the shop owners has chosen to not file a police complaint as of this date and may be negotiating with the kidnappers. Police investigators from the Federal Judicial Police are working with the remaining victim's family members in an effort to safely recover the kidnapping victims.
The Mercado 28 or Market 28 is a popular tourist shopping area in downtown Cancun where tourists often venture seeking discounted prices and sales amongst the flea market style shopping stalls in deference to the sometimes higher priced Cancun Hotel Zone shopping areas. The area is also popular with tourists and locals alike for a handful of small open air eateries that feature good food at local prices.
http://www.poresto.net/cgi-bin/news.cgi?f=12354
http://www.sipse.com/noticias/15957—despues-levanton.html
http://www.dqr.com.mx/index.php/Benito-Juarez/Nota-RojaBJ/Estaran-vivos.html
(Updated: 10/18/09)
One victim lives in tragedy, another victim stops to stare, and still another walks on by pretending not to see. - Bob Seger, No Man's Land
Leave a Reply