09/07/09
These days if we're talking Cancun, especially during the current slow season, we must be talking the Beach Restoration Project. Sure, there's low hotel occupancy, a smattering of swine flu around in a topic that may rear it's ugly head worldwide in the later part of this year and early next, and then there's the vacation sales discounts that haven't been seen in years. But, despite it all, it's beach restoration that has Cancun, along with her sister resort areas, Playa Del Carmen and Cozumel, in the Mexican State of Quintana Roo all a buzz.
The only problem is, the Beach Restoration Project has been delayed so many times that no one, and I mean no one, is ever quite sure what the scheduling of the work time line is going to be. And, hell there's still the tropical storm season to deal with, well, two months of it anyway. However, rest assured, it's going to happen, in fact the citizenry and government officials up and down Quintana Roo are bubbling with anticipation, at least as far south as Playacar, just south of Playa Del Carmen, the primary benefactor of restoration outside of Cancun. Now, we don't want to keep you in anticipation of the coming events any further, just don't hold your breathe or make life altering decisions based on the information we're about to give you, as with everything in Mexico, the below announced dates and schedules are subject to change and/ or delays.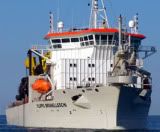 (Dredger at sea, Courtesy of Jan De Nul)
First the basics, Dredger ships are scheduled to arrive in Puerto Progreso, Yucatan this week from overseas, operated by the private contractor,
Jan De Nul
, along with Mexican subsidiary company
Dragados
, assigned the $80,000,000 US plus contract for the project. Machinery and submersible breakwaters are also scheduled to arrive along with them at an undisclosed location in Quintana Roo for the project. Prior to the actual depositing of sand, breakwaters will be established in designated areas of Cancun, Playa Del Carmen and Cozumel, so don't gaze starry eyed at the incoming shipping and machinery, thinking that in a few short days that sand will appear miraculously over new, widespread, beautiful beach fronts.
(Cancun Beach Photo during Post Hurricane Wilma Restoration)
The sand used in the beach replenishment will actually have to be mined or dredged up from the ocean floor, the primary area of this sand mining to occur offshore of Cozumel at a marine area known as the North Bank. The area is stated to be an area where the confluence of oceanic currents occurs in the Caribbean Sea that naturally causes the the build up of large sand deposits. The Mexican Environmental Agency has cleared the area for sand extraction despite protests on Cozumel stemming from fears of the North Bank area providing a natural buffer from hurricanes and tidal surges. The same agency has also shot down the notion the area is productive breeding habitat for the endangered marine species, the Pink Conch. The secondary sand extraction area is also a marine area offshore of Isla Mujeres and Cancun.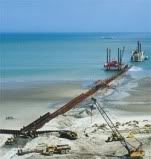 (Beach Reclamation Equipment in action during previous work, Courtesy Jan De Nul)

The beach restoration project is expected to continue for at least 151 days from inception, ending on or about February 10, 2010. It is anticipated that topographical studies and bathymetry are already underway and will continue during the project to properly place man made breakwaters and additional submersible apparatus as required. In Cancun, the project will focus on the 12KM of beach between Punta Cancun and Punta Nizuc. In Playa Del Carmen, the main area of restoration is the Playacar area and in Cozumel, to a lesser extent, specific beaches are targeted for replenishment.
Reported Dates of Interest*:
Puerto Progreso, Yucatan
September 5, 2009: Estimated Arrival, Specialized Ships used for dredging, sand mining and bulk sand placement.
Cancun:
September 15, 2009 - December 28, 2009: Initial placement and construction of breakwaters in Cancun.
Early October, 2009- December 19, 2009: Beach Replenishment/ Addition of Sand to 12 KM of beach in Cancun.
Playa Del Carmen:
September 21, 2009 - November 19, 2009: Initial placement and construction of breakwaters in Playa Del Carmen.
December 11, 2009- December 20, 2009: Beach Replenishment/ Addition of Sand to select beaches
Isla Cozumel:
September 21, 2009 - November 19, 2009: Initial placement and construction of breakwaters
December 11, 2009- January 20, 2010: Beach Replenishment/ Addition of Sand to select beaches
*(All Dates Approximate and Subject to Delay, the information is deemed reliable but not guaranteed.)
The information in this edition of the Cancun Casa Blog was compiled from multiple sources, official and media related.
We'll get a golden island…We'll feed the food to the ford, And we'll live off the coconut…

Dangers…



Leave a Reply