03/30/09
Filed under:
Cancun Tourism
Posted by:
Dangers
@ 10:45 am
When I started putting this piece together it came to me as a rather straight forward approach to announcing the new Cuban style restaurant, bar and nightspot in Cancun, the original franchising Cuban hot spot, La Bodeguita Del Medio and their prime time introduction into Cancun of the classic or original Mojito along with Cuban island style music and food. However, after multiple discussions with Mojito aficionados and research it quickly came to mind that almost everyone who favors the Mojito as one of their drinks of choice has their own version of the classic and debates have raged for years on the Mojito as a drink going back to the 1920's.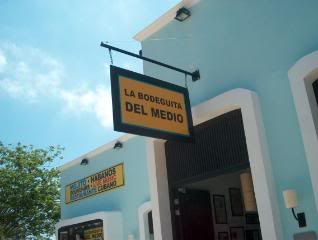 The Hemingway island favorite of lore was first introduced in the 1920's as the Cuban Mojo with Mojo meaning "soul" and Mojito meaning "little soul" according to George Sinclair of the "The Thinking Bartender". Below are two of the published original recipes;
RUM COCKTAIL (Cuban Mojo)
In medium size glass put :
* One teaspoonful sugar
* Juice and rind of a green lime
* Sprig of mint
* One jigger Bacardi Rum
* Several pieces of ice
* Fill glass with soda water.
* Serve with a long spoon.
The next mention of a Mojito recipe in a published book is from 1947, "Bartender's Guide", by Trader Vic.
*1/2 lime*3 sprigs mint
*1 tsp. bar sugar
*2 oz. Puerto Rico rum Squeeze lime and drop shell in 10 oz. glass; add sugar to juice and mint leaves and muddle. Fill glass with shaved ice; pour rum over ice; stir or swizzle until glass frosts. Add dash of charged water; garnish with mint and serve with straws.
Trader Vic was renowned for traveling to the global destination synonymous with a particular cocktail, and then hunting down the authentic recipe. During the 1937 World Fair in Oakland, Trader Vic ran an advert in the local newspaper for his restaurant, in which was listed a Mojito from Habana, Cuba. (The Thinking Bartender)
Over the years debates have raged, bar side I'm sure, over the proper Mojito ingredients and the proper technique to making one. We make no pretense here of what is wrong or right, which personal favorites are better, bitters or not, Havana Club, Barcardi or Jamaican Rum, and who made the original, rather we celebrate the Mojito as a Caribbean Island favorite and by extension offer yet another venue, in Cancun, upon which to allow the debate to rage and for the less discerning amongst us to just sit back and enjoy a Mojito.
As such, we present, as part of our recent travels, one of the new editions to the Cancun scene that we uncovered in our most recent adventure, La Bodeguita Del Medio, nestled in Party Centro, lagoon side in the former Cancun favorite "My Place" site location, in the Hotel Zone. La Bodeguito is a Cuban based franchise off the world famous original in Havana Cuba and has other locations around the world these days including one in Playa Del Carmen. La Bodeguita Del Medio also lays claim to one of the classic original Mojito's recipes but we'll let you decide after tasting whether their excellent version of the Mojito is deserving of the best of show.
We found La Bodeguita as we wandered aimlessly along Cancun's Party Centro district in the late afternoon after a long day of beach walks and general rambling around the various nearby shops, exploring what has changed and what old favorites remained since our last visit. Cancun is one of those towns where nothing seems to remain the same for very long, constantly evolving, reinventing itself as the times change, often for the good, sometimes for the worse and on occasion, such as Hurricane Wilma, out of necessity.
Looking for cool beverages and shelter from the sweltering tropical sun, we brought the party with us and ducked into the friendly confines of La Bodeguita where we found the wait service extremely personable, ashtrays available and a menu and cook standing by and ready. Even if our request for photos and questions regarding the bars recent history drew wary eyes from the Cuban Manager and bartenders. We should note that in Cancun and particularly nearby Isla Mujeres there's always been a Cuban presence of some type given the Yucatan's close proximity to the island nation of Cuba and that presence has had an up and down affair with the Mexican Government due to illegal immigration and other more nefarious issues that don't concern us. Our visit didn't harbor these attitudes one way or the other and while at La Bodeguita we found the atmosphere to be quite friendly, fascinating and a purely cross cultural sampling of the Caribbean Island scene without the baggage of the aforementioned government concerns.
We also found the Mojito, the signature drink, in two versions, one more sweetened than another but basically familiar to the taste and surprisingly refreshing in iced down tall cold glasses. The Mojito in itself on a hot day is a smooth, cold, mint induced drink laden with blanco Havana Rum in this case, sweetened with sugar and lime juice, alternatively served w/ lime wedge or punctuated with juice.
It's an amazingly refreshing drink, goes down easy and hints of summertime non alcohol ades though there can be no mistaking its potency and strength. It's little wonder, Ernest Hemingway and thousands of others have found cool solace and relief under the Mojito's spells.
La Bodeguita resides in an unpretentious facade, preferring to recall its Cuban roots as it stands out amongst the more gaudy of the typical Cancun restaurant and retail scene, adjacent to the flea market across from Coral Negro and neighboring the very visible and modern OXXO convenience store.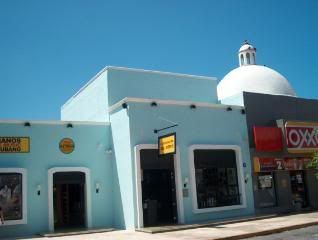 The interior is a mix of Mexican and Cuban style layouts with Cuban themed artwork, celebrity autographed pictures and patron signed walls. At the heart of the establishment is its old world bar, a throw back to the days when men saddled up to local bars and pubs drinking off the days work and relishing in fanciful boat tales well into the night. La Bodeguita's bar is stocked heavily with the famous import of choice, Havana Club Rum and the finest cigars from Cuba.
To the rear of the bar is the stage area, home to Cuban style bands, featuring live music in the evening and ample room for the dance floor. The service was very good and both English and Spanish was spoken fluently by the waiters. The food we sampled, a sweet leche topped offering of fried plantains was outstanding and the seafood based dishes were excellent, including a specially prepared combination tray featuring shrimp.
La Bodeguita Del Medio also offers a gift shop and nightly entertainment that attracts both local and tourist alike with Cuban based themes, food and music, along with their signature drink the Mojito.
This one gets the thumbs up from us and is recommended.
The sun has set over the sea, And the lights are way down low, He's probably had 'bout two or three, Mojito Joe…
The Hormonauts
Till next time, this Mojito's for you…

Dangers

Leave a Reply