The beach restoration project also includes selected beaches in Playa del Carmen and on Isla Cozumel, as well as Cancun, and is tentatively scheduled to begin the physical aspects of the work in late August in Playa and Cozumel with an early September start date anticipated for Cancun. It should be noted that the work and progress is going to be subject to weather conditions and while in the near future the local government is expected to announce a schedule of work areas and anticipated dates for beach replenishment work, these dates are subject to change and potential delay. It is believed at this time that the work in Cancun will start initially just south of Punta Cancun.
The source of the restoration sand is off shore of the Isla's, Cozumel and Isla Mujeres, and on Cozumel has been the subject of severe consternation from locals along with environmentalists, as to the impact of the sand removal from the Caribbean Sea underwater sand banks near the islands. The most common complaints are damage to the marine life in the area and the potential destruction of a sand bank providing protection for part of the Cozumel coastline from sea, storm and tidal surges.
The Mexican Environmental Agency, PROFEPA, will be responsible for approval of environmental permitting and oversight to protect potential damage to environmentally sensitive areas involved.
Additionally, the beach project, delayed over a year already, includes a 10 year maintenance plan for continued restoration along with funding for addition and removal of geotubes and breakwaters as necessary.
Locally, the start of the project is highly anticipated and slated to be part of a widespread tourism campaign for the Fall of this year by the Mexican Tourism Board in hopes of luring back tourists who were dissuaded from visiting Cancun and other areas of Quintana Roo due to storm damaged beaches that left many resort hotels with little to no beachfront along a 12 kilometer stretch. The hotels, in some cases, left with only structural seawalls, protecting the resorts from storm surges. Cancun business owners have been complaining that other Caribbean Island destinations have been actively promoting their beaches and Cancun's lack thereof in hopes of taking advantage of the disappearing beachfront locally. In an attempt to fight back, a few hotel owners using private funds established various sea buffers, breakwaters and provided their own sand replenishment. Most recently, the owners of the Gran Caribe Real and Royal Cancun were found in violation of existing environmental laws that forced cease and desist actions by Mexico's PROFEPA requiring a partial beach closure and verbal jousting between the business owners, local officials, PROFEPA representatives and local citizenry, in the Cancun and International press, including an anonymous, alleged death threat, via phone, to the leading representative from PROFEPA.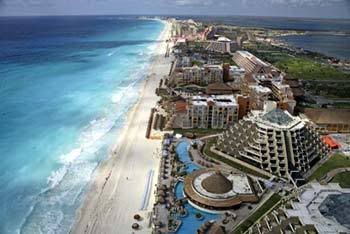 (Cancun Southern Beaches After Post Wilma Restoration)
It was back in 1988 when Hurricane Gilberto hit Cancun that the resort city's beaches were first diminished, later storms, particularly Hurricane Wilma in October of 2005, laid further waste to an extensive stretch of Cancun's southern beaches. A short lived beach replenishment project followed where long term maintenance was advised but declined by officials due to cost. However, despite what appeared to be a successful restoration, subsequent tropical storms soon reaped havoc on the southern beaches once again setting up the need for the current project and long term maintenance plan. Government attempts at artificial breakwaters, primarily geotubes, were instituted with limited to no success in the interim.
Of note, beach restoration has already been predominantly completed at Isla Mujeres famed Playa Nortes though from my understanding there is some work continuing and it was performed by a different contractor.

As it stands, the beach restoration project is now imminent and about to begin in Cancun, Playa del Carmen and Cozumel despite the tropical storm season, commonly known as hurricane season also being underway. Future visitors to the region in the later half of 2009 and into the future should find that Cancun, once again, if all goes as planned, will most certainly be returning to her place as the dominant beach destination of the Caribbean.
Here at Cancun Casa, we'll continue to bring you the updates on the beach restoration project as available so don't forget to bookmark us and stop on back…
Dangers…