09/16/10
Filed under:
Cancun Casa Blog
Posted by:
Dangers
@ 6:34 am
The "El Grito" went off without a hitch last night on the Eve of the Mexico's Independence Day celebrations in Cancun despite a predicted threat from Tropical Storm Karl (our former friend Invest 92 in the blog below). Fortunately, for revelers, TS Karl chose a southerly path into the Yucatan and caused little damage as a strong but small tropical storm in the area near Chetumal, Mexico, well south of Cancun.
In Cancun, it was rough seas, a few rain showers and partly cloudy skies for most of the day as TS Karl, fortunately, failed to deliver on threats to dampen the festive atmosphere on what was to be one of the largest party nights in Mexico and longest holiday weekends in Mexico this year.
For many Mexicans, last nights El Grito, the celebratory freedom yell, at local municipal areas, was the start of a four day weekend that includes a two day bank holiday, parades and local celebrations.
Mexicans are also celebrating the country's Bicentennial (from Spanish rule) and Centennial of the people's revolutions, so this Independence Day is quite the big bang for the locals.
Viva, Mexico! Viva la Fiesta!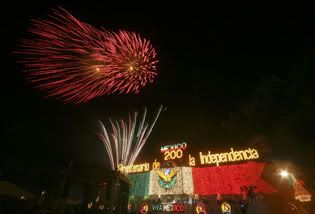 (Courtesy of Diario de Quintana Roo)