11/24/09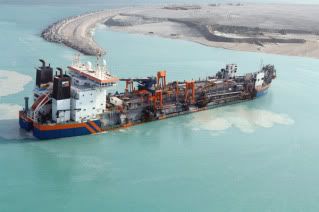 (The Sand Dredger "Terranova"in a prior project,courtesy of bruinhof.nl/stock)
By popular demand and as a relaxing respite to this avid blogger comes photographs of the Cancun Beach Restoration courtesy of the government of Quintana Roo, Mexico. The beach restoration work has been highly active despite a brief delay from Hurricane Ida and is currently focused on the area just south of Punta Cancun and Dreams Cancun Hotel and Resort. The beach restoration contractor Belgian, Jan de Nul and their Mexican subsidiary, Dragados have been working 24/7, weather permitting to revive the Cancun southern hotel zone beachfront and are moving at a rapid pace, particularly after the arrival of a second major sand dredging ship last last week.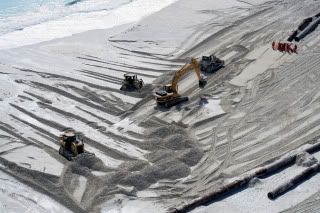 (Heavy equipment spreads sand recently mined offshore)

( Local officials monitor the beach work)

(Workers survey the lay of the land)

(Spreading the new found wealth)

(The mandatory photo-op)
Now, with a bit of luck, good weather and legal issues presumably behind them, the full restoration of beaches in Cancun may continue with an anticipated completion on or about the early part of January if not sooner. The project will also be moving south to the Playacar area of Playa Del Carmen and eventually over to specific beaches on Isla Cozumel in the near future.
Future visitors to Cancun should check with their resort to ascertain the progress of the project as it may pertain to their hotel. Thus far, most reports have indicated little issue from the tourists in Cancun regarding the project, finding the added attraction of the ongoing beach work to be a point of interest during their stay. Please keep in mind that not all the beaches are effected by the work and in most cases, access is maintained for hotel guests for beach and swimming availability.
For more information and background on the Cancun Beach Restoration, please feel free to visit our past blogs at; Cancun Beach Restoration 2009 , we would also like to thank the government of Quintana Roo, Mexico for making the photographs above available.