07/23/09
In a tragic story that begs more questions than answers at this point, government authorities in Cancun, Quintana Roo, Mexico are confirming that the remains of a body found south of the Moon Palace Hotel and Resort in Cancun today, is that of Julia Howard, a missing Scottish grandmother, missing since June 16, 2009 from the resort. The Quintana Roo, State Attorney General, Carillo Rodriguez in a press conference earlier today explained that on the early evening of July 22, 2009, security personnel at a nearby ranch, Las Americas, nearby Petempich Bay in Puerto Morelos, discovered the body in an isolated, mangrove area on the ranch property, located, as per reports, some 5 kilometers south of the Moon Palace Resort, the last place Julia Howard was seen alive by family members. Of note, the 5 KM distance is approximately 3.10 miles from the last known location of Julia Howard and current press reports vary from 1-5 KM in distance. This report, today, is relying on information reported from the press conference at 11:30 AM today, referencing a prepared statement by the Attorney General of Quintana Roo and reported by Diario de Yucatan along with various other local reports including past coverage in this blog. ( Link Below)
http://www.yucatan.com.mx/noticia.asp?cx=15$4108080000$4120937&f=20090723
http://dangers.cancuncasa.com/?cat=10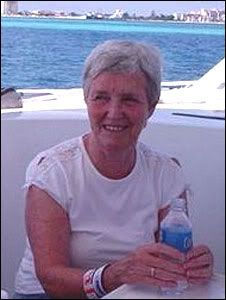 Julia Howard
The remains were identified in part from possessions found at the scene, including a Moon Palace Resort room key, a watch known to have been owned by Julia Howard and a hip prosthesis. Various reports also have mentioned a ring as being found and identified as Ms. Howard's. Final forensic examinations are expected to continue of the site where Ms. Howard's body was found.
The Attorney General also mentioned that local officials have notified the family of Julia Howard, in the United Kingdom, via the British Consulate, and have requested the family verify and gather the remains from proper authorities for transport back to UK. The AG also stated that he doesn't believe Ms. Howard was murdered and she likely died of natural causes, potentially starvation, the inference being that Julia Howard, on her fifth visit to the Moon Palace Resort in 5 years, went for a walk, wandered off the beaten path, became disorientated and lost, eventually ending up some 3.10 miles away before succumbing to starvation and exposure before dying.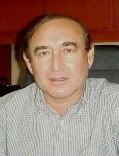 Quintana Roo AG: Carillo Rodriguez
The Julia Howard story has been widely publicized on both sides of the Atlantic after the 78 year old grandmother went missing from the Moon Palace Resort shortly after arrival on June 15, 2009. On June 16, 2009, based on reports, Ms. Howard was with family members near the resort's pool area and had decided to go for a walk at a resort that she knew well from past visits (4). When Ms. Howard failed to return to the pool area after some time on the 16th, family members went looking for her, contacted hotel security and set off a widespread search by local officials for Ms. Howard. The story became controversial when Howard's family in Cancun and the UK, publicly lambasted search efforts, hotel officials and the local Attorney General's office. Subsequently, the Moon Palace Resort issued a statement locally in Cancun that many would consider questionable and the Quintana Roo AG publicly inferred that the family members in Cancun were responsible for her well being and had failed to take care of her.
A statement that he once again made today at the press conference.
The question remains, what made Julia Howard wander off into the dense, isolated underbrush of the tropical mangrove forest, while at a resort she had previously visited four times, and how did a woman whom it was previously reported in multiple press accounts, that had a difficulty walking long distances, manage to walk upwards of 3 plus miles, depending on currently reported accounts, in the tropical sun, before meeting her demise due to natural elements, and why didn't earlier search teams, including searchers on horseback, trained search tracking dogs, helicopters and police officials find her sooner.
And, while we're not inferring that foul play was at hand or incompetence of the search teams, was there something else, that lured Julia Howard into the tropical forest, setting off a series of events, ending in this tragedy.
We'll likely never know…
Dangers…
In breaking news out of Cancun, Mexico this morning, Por Esto newspaper is reporting that police have recovered the remains of a body that may match the description of missing tourist, Julia Howard, just south of the Moon Palace Hotel and Resort in Cancun. The early reports, still without positive identification until further forensic investigation, indicate that among the remains are a metal hip prosthesis that the missing Scottish grandmother was known to have had. The body was found in a area known as the Las Americas ranch by security personnel who contacted police officials.
Julia Howard has been missing since shortly after her arrival on June 16, 2009 from the Moon Palace Resort, reportedly she had been preparing to go for a morning walk after leaving relatives nearby at the resort's pool area.
More on this story as it is available…
http://www.poresto.net/quintana-roo/46507-julia-howard-quiza-encontrada