07/13/09
Based on reports "Noticaribe" has picked up, from news sources at
the Le Meredien Hotel Press Conference today, the Beach Recovery Project is a go as of July 15, 2009 per local State and Federal officials, with work scheduled to start as of the stated date.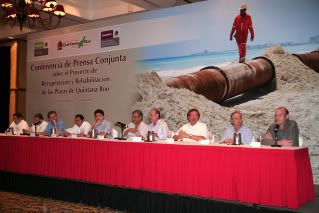 (Photo Courtesy of the State of Quintana Roo, Mexico)
The much awaited beach recovery project over the last year has been the subject of much debate from a variety of standpoints including financial, environmental, contracting proposal and time line. Government officials, business owners and citizens have argued over the cost of the project and revenue sourcing, environmental damage to areas for offshore sand extraction near Isla Cozumel, details of the contract, and the continued project delays. As of the now "set in sand" start date, officials are gambling that the project starting in the midst of the tropical storm season will face only minor issues from the Caribbean's often fierce hurricane potential, typically occurring late in the summer and early fall periods.
The primary contractor is Mexican based Jan de Nul subsidiary, Mexican Dragados, SA. de CV. de CV. http://www.jandenul.be/group.html

The projects estimated cost is in the area of 74.6 million dollars (approximately 1 billion pesos based on the report) and will include presumably as previously mentioned in press reports a continued 10 year maintenance program. Of note, the official statement today based on the official government site stated 900 million pesos, regardless, we're talking a large amount of financial resources in either pesos or dollars.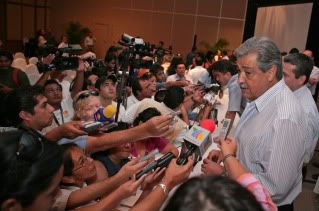 (Photo Courtesy of the State of Quintana Roo, Mexico)
The recovery will provide restoration and continued maintenance to selected beaches in Cancun, Isla Cozumel and Playa Del Carmen. There was no mention of Isla Mujeres famed Playa Norte Beach which has been mentioned in earlier press accounts, however, Playa Norte has been recently restored this past spring.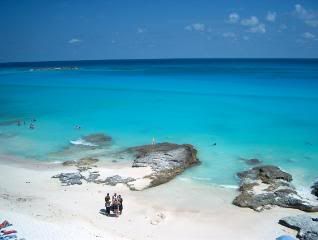 The Ministry of Environment (SEMARNAT) will monitor the works so
they do not affect the ecosystem. (the SEMARNAT approvals are expected
on or about the 15th of July)
The official statement and press release can be found at; http://www.unidaddelvocero.com/2009/julio/noticias/noticiasdia/13_09.html
http://www.noticaribe.com.mx/cancun/2009/07/confirman_arranque_del_rescate_de_playas_en_qr_el_15_de_juli.html
http://www.exonline.com.mx/diario/noticia/primera/pulsonacional/inicia_el_15_de_julio_recuperacion_de_playas_en___cancun/660255
More on the beach restoration project as news develops, stop back for further updates as we get them…
*Missing at the Moon Palace Update 07/17/09:
http://www.thesun.co.uk/scotsol/homepage/news/2539667/Kidnap-fear-over-hols-gran.html
" Kidnap Fear Over Hols' Gran"
07/16/09
"Agonising Search for Missing Mum"… http://edinburghnews.scotsman.com/topstories/Agonising-search-for-missing-mum.5465105.jp
Julia Howard's Family returned home to Mexico amid complaints from
furious family members that that Mexican officials accused the family
of complicity in her disappearance. More from the Scottish Sun at...http://www.thesun.co.uk/scotsol/homepage/news/2531040/Missing-gran-family-accused.html

(Detailed coverage of the Julia Howard disappearance can be found at http://dangers.cancuncasa.com/?cat=10 )